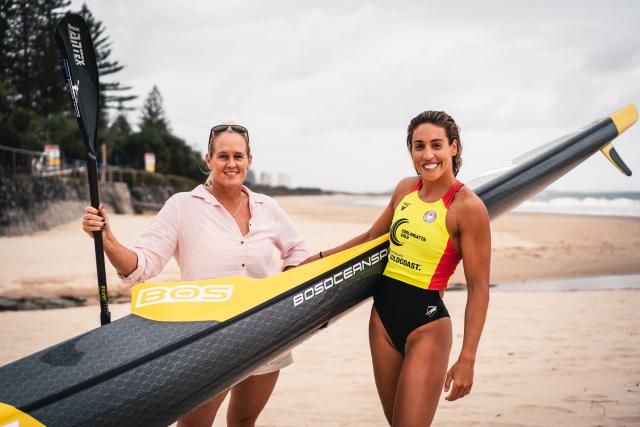 Ron Lane
Last weekend, Noosa Heads SLSC traveled to Tugun on the Gold Coast for Round 1 of the Queensland Cup. Noosa paddled his boat in choppy waves of 1-2 metres, a crew of five joined the carnival, and the boat his captain Andrew Fox returned happy with the results.
"The crew known as the Bandits paddled in the women's reverse grade division and finished 1st. The second crew, the Road Runners, lost a place.
We are so proud of these girls. For the last four years they have been driving from Yeppoon to Noosa to not only patrol but also to row boats for our club. All signs for these girls are good for her year ahead. Their attitude towards training and clubmates is top notch. I couldn't be happier.
Two other U19 men, Noisy Miners and Duffy Ducks, failed to make the top three. However, Daffy Ducks was happy with their performance for a novice crew who made sweeps in the first row. "
The Gold Medal winning Bandits were represented by Hale Ohl, Rachael Michillan, Emma Bygrave and Kody Jensen. and rowed for the bronze medal-winning Angry Birds: Letia Fox, Issie Cooper, Amelie Griffin and Rose Balimore. Both crews were swept up by Michael Brooks on loans from the Maroochydore Club.
It is interesting to note that two U19 men and women, Daffy Ducks and Road Runners, are experiencing their first season of competition.
After participating in a Megabeam-sponsored boat carnival at Noosa Beach, the Daffy Ducks crew of four boys decided to paddle for Lifesaver and Noosa. They saw their mates rowing a boat for the Noosa club and made a decision on the spot.
Megabeam not only sponsored a surf boat carnival, but also led four young Australians on their path to lifesavers. It doesn't get better.
The next round of the Queensland Cup takes place on 14th January at Mermaid Beach.
There was good news for the boat racing club. A new rule came into fashion. A week ago it was announced that at this time she can join the boat crew and start training for the competition once she wins the bronze at age 15.
Nutrigrain series
In the first two rounds of this 2022/2023 Nutri-grain Iron Man, Iron Woman series at Manly Beach, Sydney, local girl Lana Rogers, currently competing in the Alexandra Headlands Club, rushed for an unforgettable weekend. spent .
Big waves hit Manly in Round 1 on Saturday 17th December. During the ski section of the first round of the event, Lana was caught in a break with another ski competitor, severely damaging her skis.
Lana, who had run repairs on the beach and taped cracks in her skis, was back on the field so well that any chance of finishing in the top three was virtually impossible.
She was 12th when she crossed the line at the finish. She was so sorry for her, but that's the surf. The day ended with an in-depth discussion with her coach, Charlene Kelly, about all aspects of her racing and the toughness and open-mindedness she has come to be known for. I'm back.
Lana is back on the starter line for Round 2 on Sunday. He had a positive attitude and was ready to deal with whatever lay ahead. And at the end of this day, Lanahe saw Rogers back on the podium. Around her neck was her second place silver medal.
About Sunday, Lana said: By the end of the discussion, she had forgotten all about Saturday's disaster and had regained her positive attitude. So by then I was ready to go: and it was all thanks to my coach.
Coach Kelly said, "It was a miraculous comeback. It was a really great performance to finish in second place today after the big disappointment of yesterday. She made me feel very proud."
For Noosa's Iron Woman Carla Papac, it wasn't one of her best carnivals. Having won an entry in the wildcard draw, she fell down on both days. But her hard work in preseason trials shows that this young woman has potential.
"It's difficult to transition from the long-distance training schedule that earned her a Coolangatta Gold to a short-course event," manager Darren Mercer said.
For now, it's the years ahead that matter. We wish both girls the best of luck.