Today is the last port of call on our cruise, and Honduras is a completely new country to me, so it's especially exciting!
The ship docked at Mahogany Bay, Roatan just after 7am. Little She headed to a small island called French Quay off the coast of Roatan, but it wasn't an official excursion with a set start time, so it took a while to get off the ship.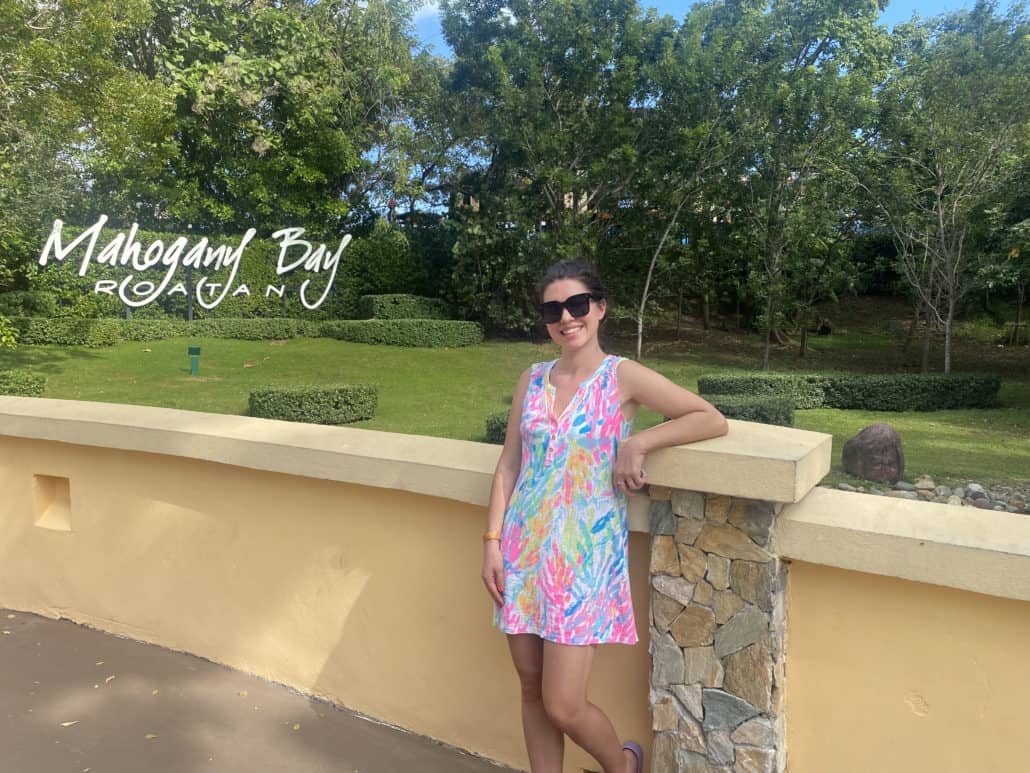 Disembarking shortly before 9am, we walked outside the harbor area and walked down a short walkway to the car park area. Many independent excursion drivers and guides were waiting for guests in the parking lot area.
We spotted the folks at Little French Key and quickly drove 15 minutes to where we bought our island package and boarded a small boat. Admission to Little French His Key includes transport to and from the port and island.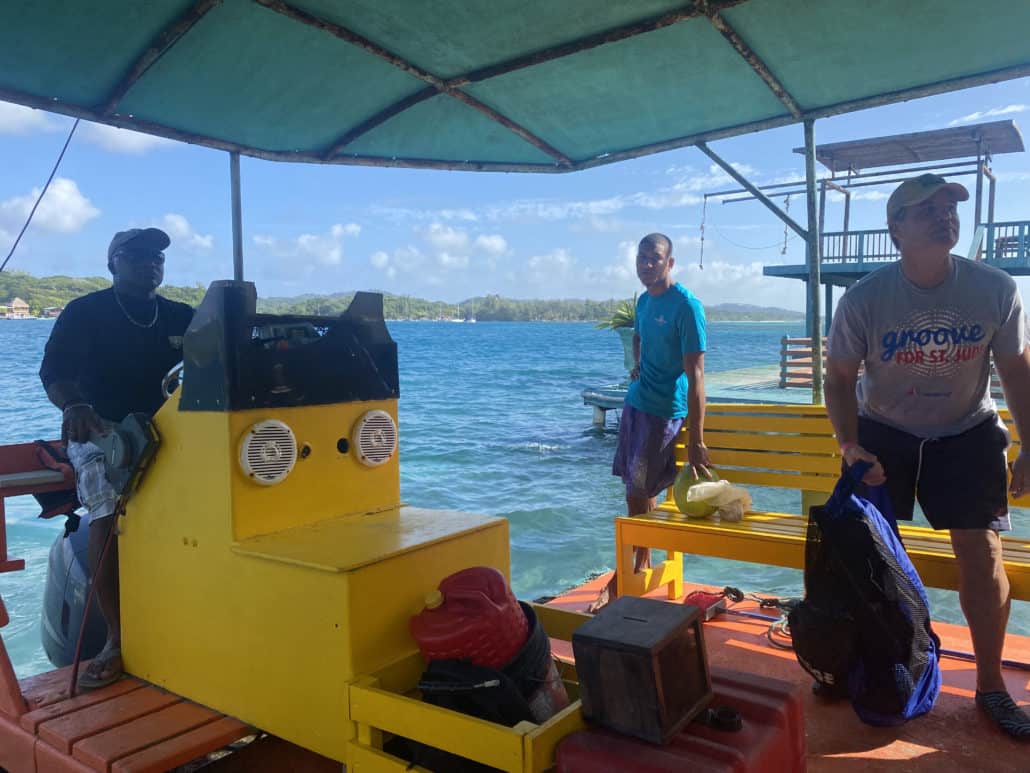 For complete transparency, Cruise Radio was invited to Little French Quay for the first time in years (February 2018) by its owners.
The island has multiple packages to choose from, each with a range of things to offer such as interacting with the resident pigs, horseback riding, water sports, and varying amounts of food and drink. We received a basic general admission fee to the island for our free time there. No surcharge is included.
Upon arrival on the island we were directed to the most popular beach areas.It included a large dock-type structure with loungers and tables and a number of loungers along the beach just in front of the bar. of You can put your drink somewhere without getting out of the water.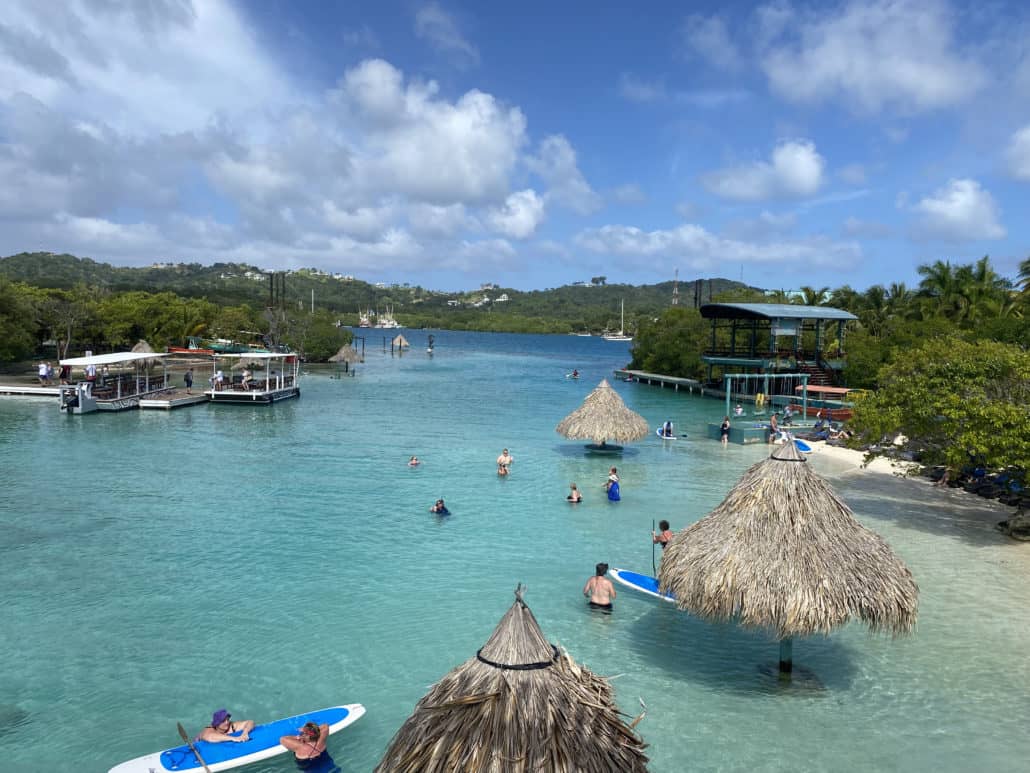 Little French Key is really small and very beautiful. The owners – mother and son – own the entire island, most of which is open to visitors. There are no accommodations for guests on the island. It is purely a daytime resort.
In addition to its beautiful beaches, Little French Key is historically known for its exotic animal sightings and interactions.
They still have some exotic animals, but their current owners treat them differently than those familiar with LFK may remember from the past.
When offered a tour of the island by the owner, he said that the island's wildlife roam freely provided it is not dangerous to other animals or visitors. Oh, we experienced this when we saw many beautiful peacocks!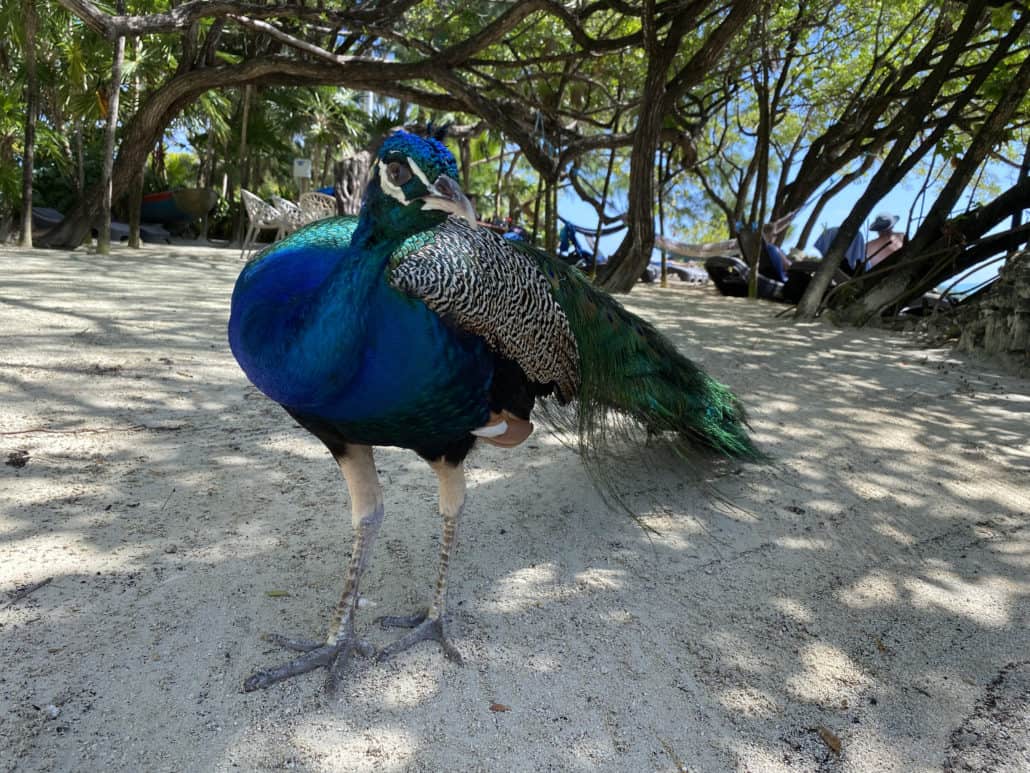 In the enclosure he even showed us a leopard and a lioness. He explained that there are now fewer exotic animals and that there are still some that are trying to return to wildlife sanctuaries and other reputable sites to increase their numbers. LFK is even less.
The larger exotic animal enclosures they keep have been renovated and combined with previously separate enclosures to become much larger.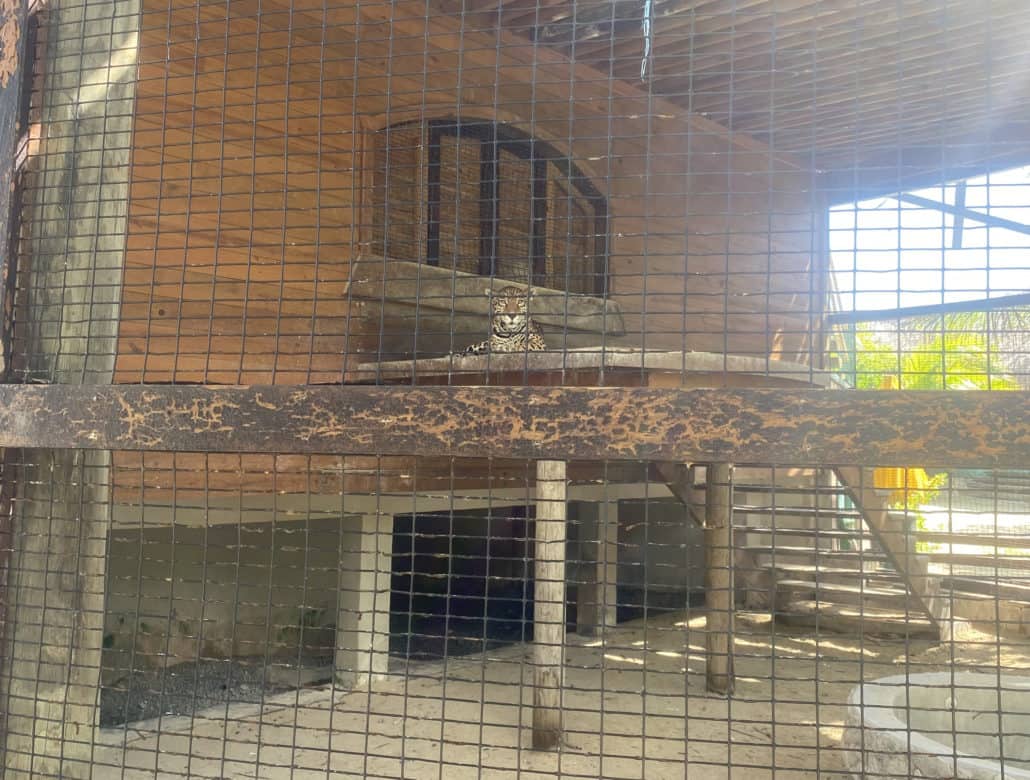 If you're familiar with Little French Key, you may remember that you once had an encounter with an animal that could hold a jaguar underwater. they don't do this anymore.
As previously mentioned, animal encounters they still have include riding in water and swimming with pigs. The island is also affiliated with a local sloth and monkey sanctuary, so guests wishing to interact with these animals can be dropped off at the sanctuary by Little French Key chauffeurs before heading to the island.
Now let's move on to the rest of the Little French Key experience!
Aside from wading and swimming, the popular beaches I mentioned also serve as push-off points for doing water sports like paddleboarding and kayaking.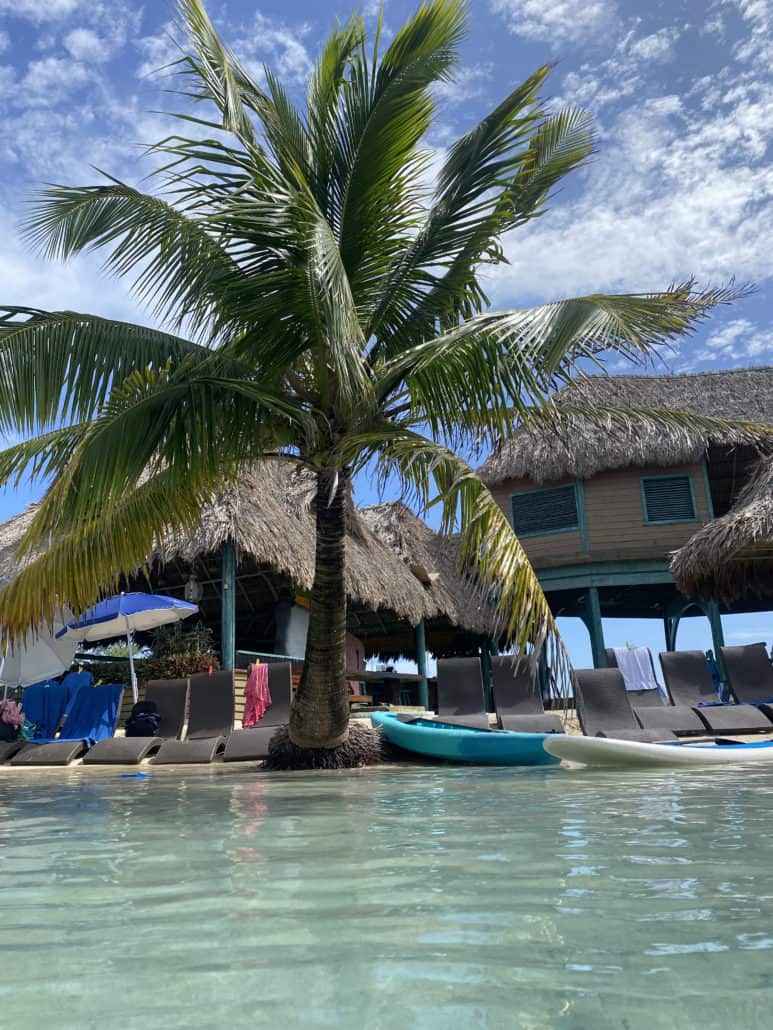 On particularly busy cruise ship days, a second bar in the center of the island will also open. It's much larger than the others and includes a porch swing and a variety of seating options. and beach. This was my father's beach of choice. He likes quiet spaces without a lot of activity. We loved both.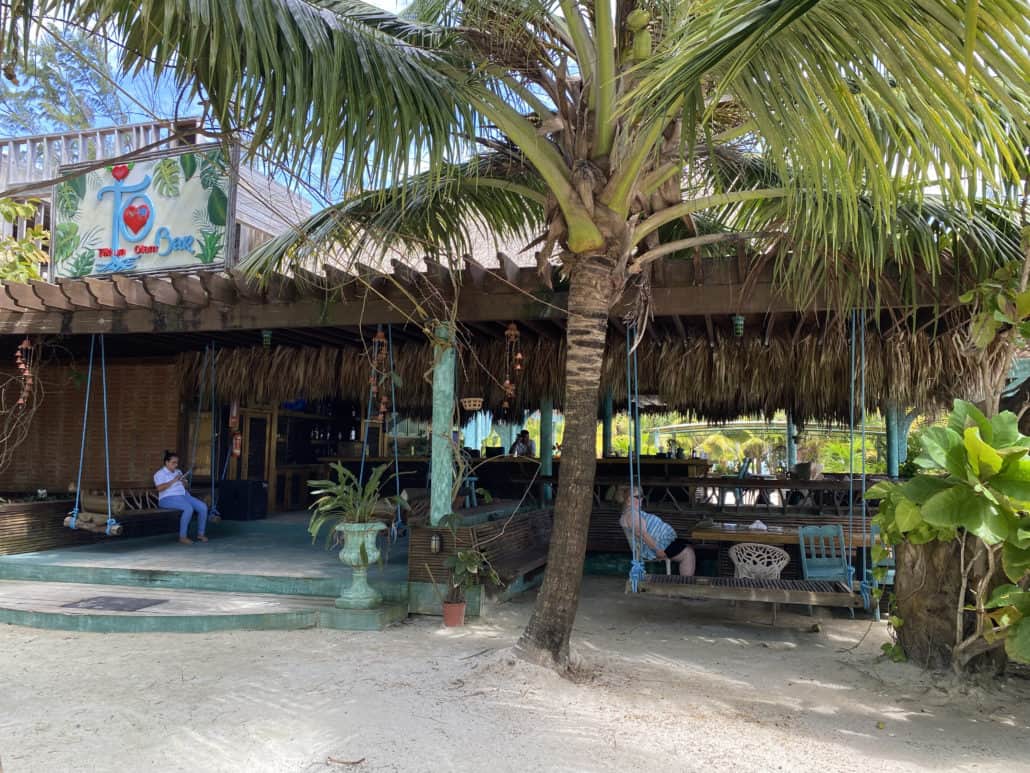 As far as I could tell, the food and drink menus were pretty much the same across the island and included simple, fuss-free dishes. Most food items are $15 each, so it's easy.
LFK is also known for its platters with a variety of items to try. We didn't know that, but we had chicken fingers and fries to share.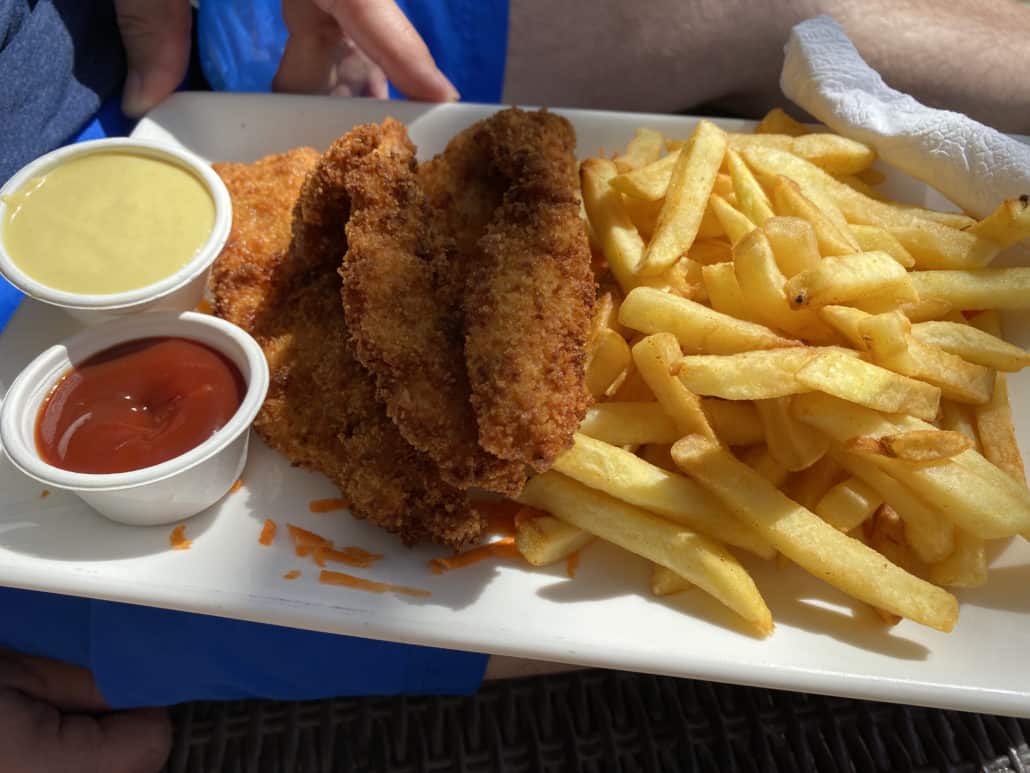 If you're wondering how the LFK can help ensure that your visitors get back to your ship on time, you'll need to leave enough time for your particular ship to return to port. Honduras is on Central Time, but many of the ships we visit are still on Eastern Time. The board shows the time in local time, so there's no confusion about when to leave.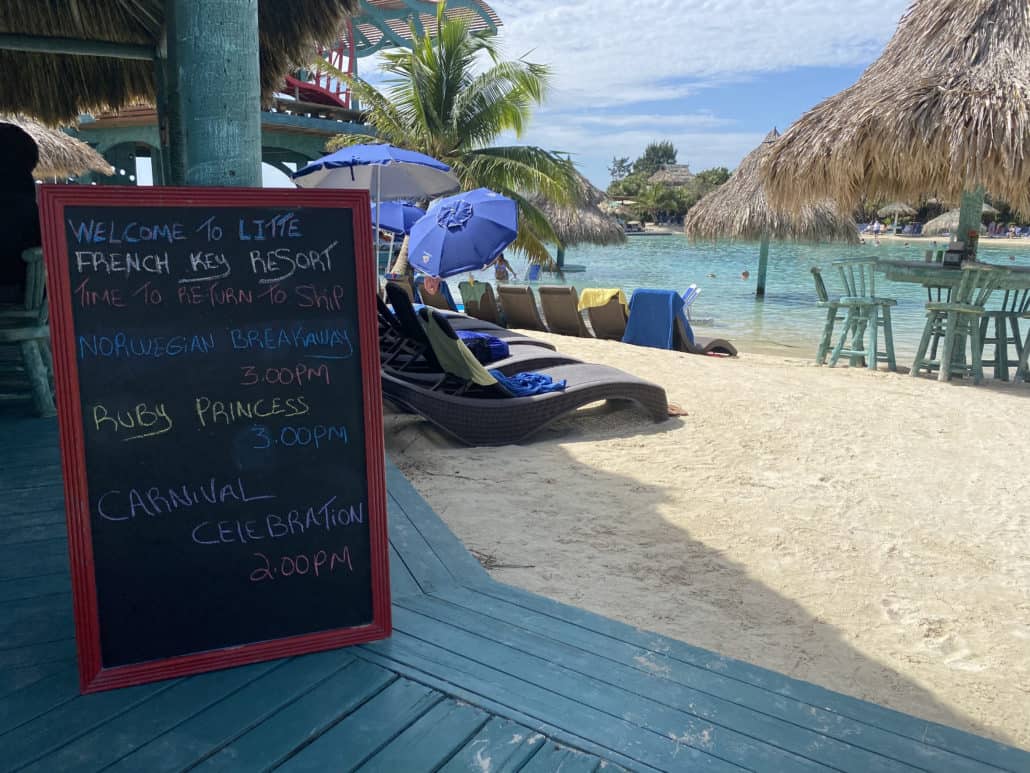 Boats from the island to Roatan run regularly throughout the day, so there's no need to wait as the boat ride is just 5 minutes from shore to shore. Little French is then driven back to the port by his key employee.
Back on board, I took a shower to wash off the sweat and sand of the day before working on my laptop.
We headed to Guy's Pig and Anchor Smokehouse, a sit-down restaurant. Dinner tonight is brewhouse. I've sailed other ships with Quick Service Guy's Pig & Anchor BBQ available on sailing day, but the seated version was my first experience.
I was so excited to try a sandwich called Pig & Anchor Melt. Very good and did not disappoint! There was also mac and cheese, green beans, Mississippi mud pie, and banana cream pie.
We really enjoyed the whole meal. It's also important to note that during Carnival celebrations and Mardi Gras, this venue is free.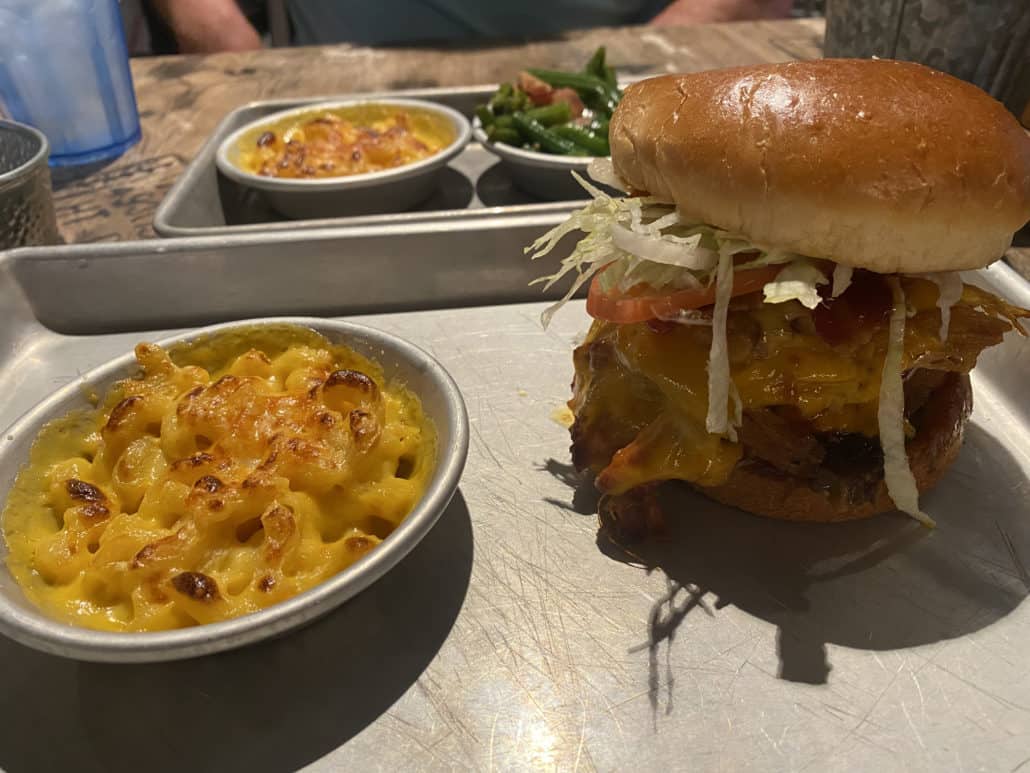 After that, experience the comedy club for the first time on this cruise! We went to his one of the family friendly shows by comedian John DiClosta.
I think he put on a great show and his jokes worked very well with the audience. I also noticed how fast he was on his feet. At one point he made a mistake, said a different word than he intended, or pushed that mistake to the limit to tell more jokes on the spot.
We didn't have as much time on the outdoor deck as we did on our cruise at night, so we decided to spend the night outside in the warm breeze.
I took my laptop to the adults-only Serenity Retreat. I snagged a spot on one of his circular sunbeds next to the pool to do some more work before closing my computer and enjoying the (no pun intended) tranquility of the Serenity Deck.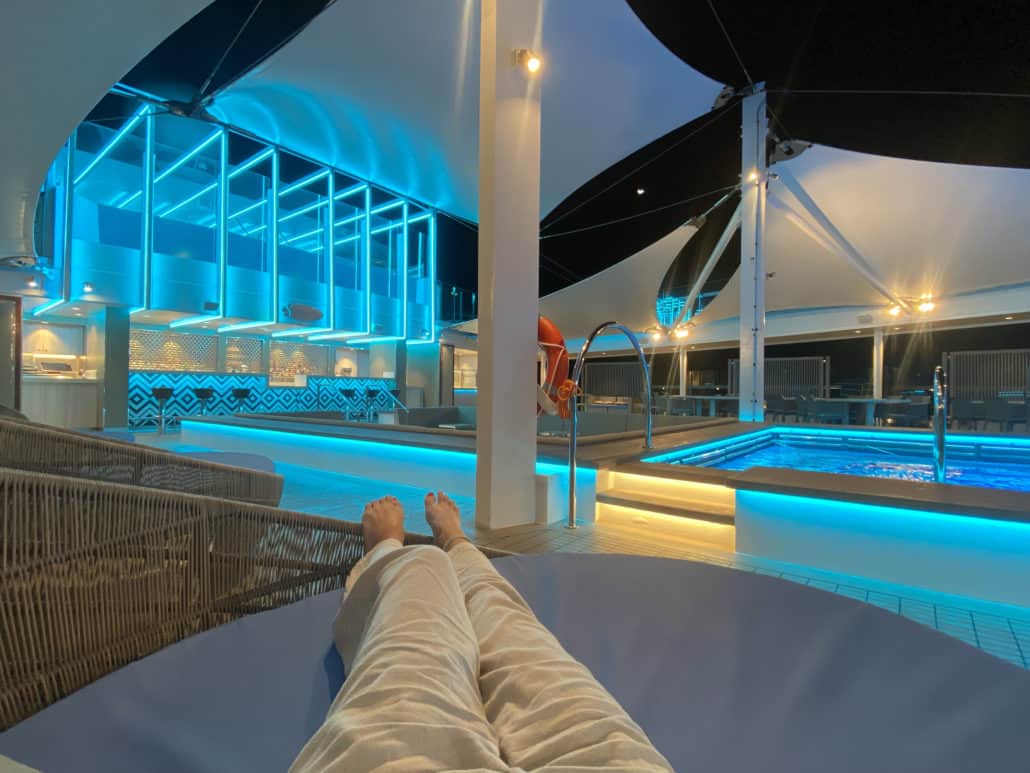 If you're on a cruise and you're spending the night not busy with indoor activities or attending shows, it's a good idea to find a quiet spot outside and listen to the sounds of the world.