If you're looking for a fancy dinner in Disney World, you certainly don't have to look far. Table service restaurants at the parks and hotels offer luxurious meals (with price points to match). But the FANCIEST meal in all of Disney World is definitely Victoria & Albert's Restaurant at Disney's Grand Floridian Resort & Spa.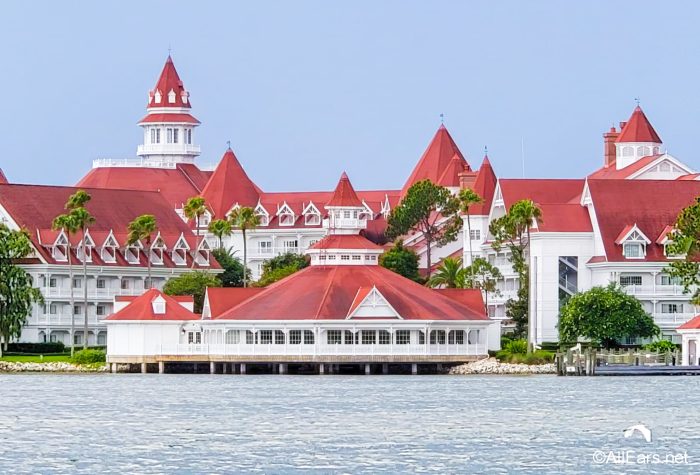 Victoria & Albert's is a multi-course, personalized dining experience. The restaurant was closed for a long time following Disney World's pandemic closure, but it finally reopened in July 2022. During its closure, Disney made some big changes to both the decor and pricing. We're going inside now to take a look! Come along with us to find out if this fancy experience is worth the hefty price tag.
First, we need to talk pricing so that you know what you're in for with this restaurant. Here's what you need to know: Victoria & Albert's is named after English royalty. The chefs create personalized menus for every visitor. There's an option to have wine or zero-proof cocktails paired with every dish to complement the flavors. All of that adds up to a very luxurious experience, and we can already tell our wallets are quaking.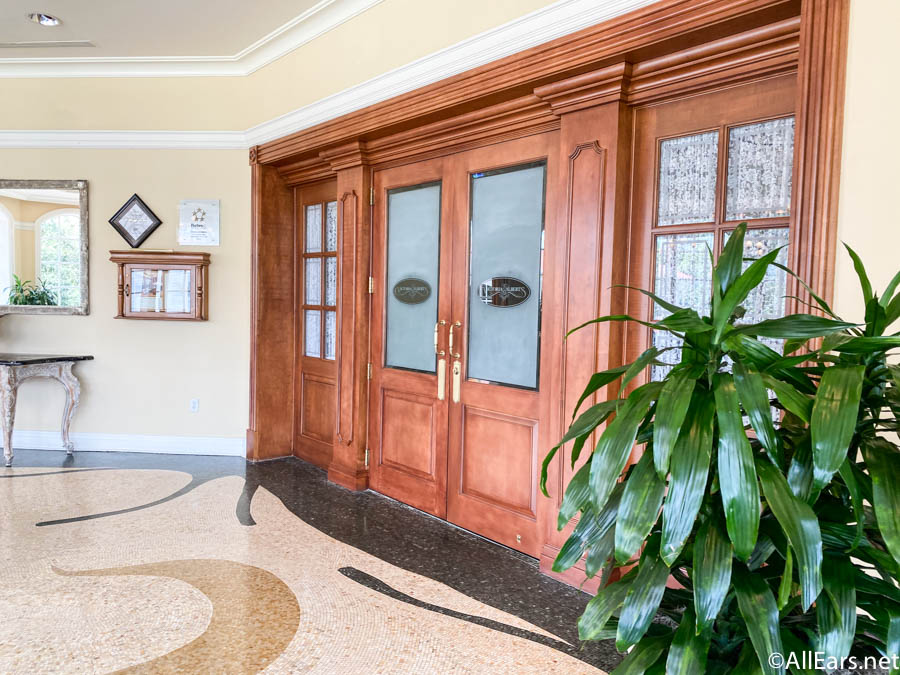 Pricing at Victoria & Albert's works a little differently than at most restaurants. You'll pay a set price for the full prix-fixe, multi-course meal. Before the closure, the cheapest option for a meal here was $185. However, the prices have changed, and they haven't gotten cheaper. Here's a look:
Victoria & Albert's Dining Room:
7-course "Tasting Menu" Prix Fixe Menu: $295 per guest
Add a wine pairing: $150 per guest
Add a zero-proof pairing: $110 per guest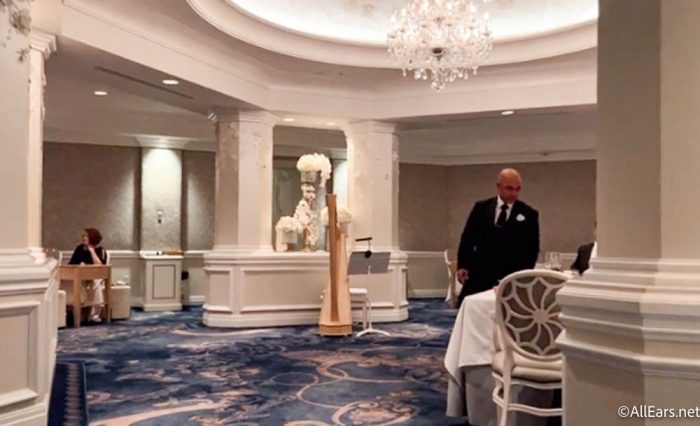 Queen  Victoria Room (10-course meal with French gueridon service):
Prix Fixe Menu: $375 per guest
Add a wine pairing: $200 per guest
Add a zero-proof pairing: $110 per guest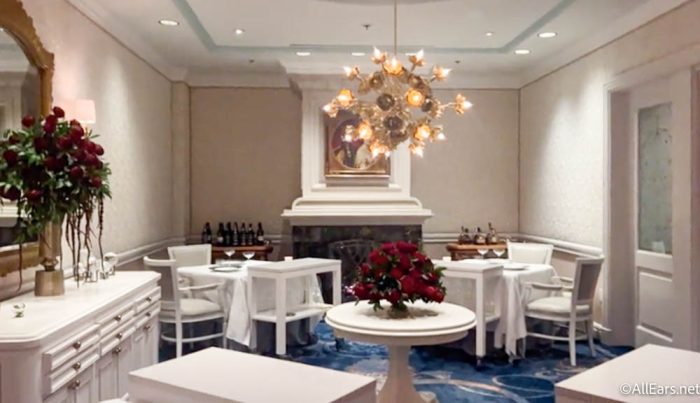 Chef's Table (choose from two 7–10 course meals):
Prix Fixe Menu: $425 per guest
Add a wine pairing: $200 per guest
Add a zero-proof pairing: $110 per guest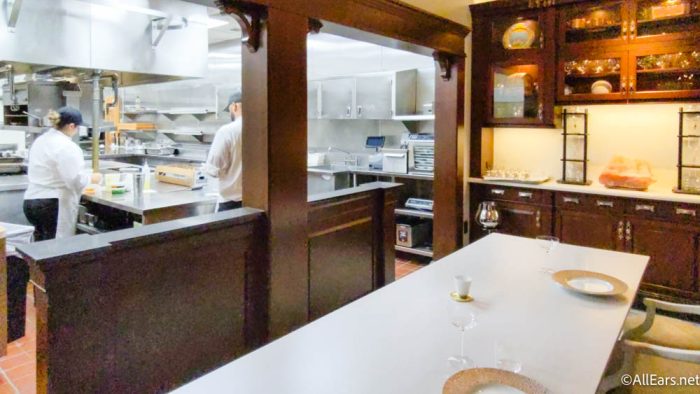 That means the cheapest option here will cost $295 per person (for the Tasting Menu without drink pairing), and the price ranges all the way from that to $625 (the Chef's Table with a wine pairing).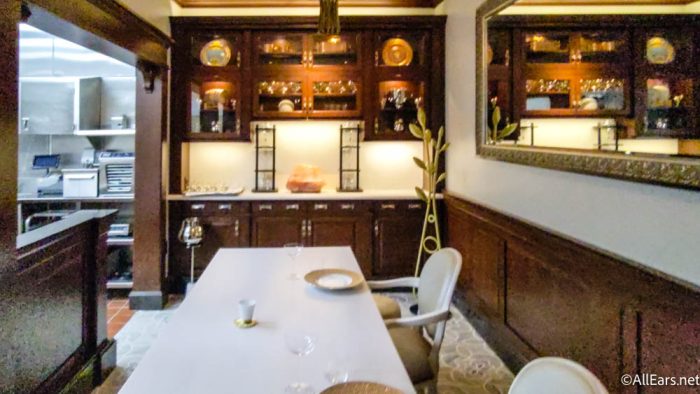 Clearly, this isn't a casual dinner for just any day of the week. But if you're celebrating a special occasion or are ready to splurge on a truly luxurious meal, this might be just the right choice for you. And we have to admit that the restaurant does create a luxurious atmosphere that lives up to the price. Remember that there is a dress code for this spot — guests are requested to arrive in semi-formal/formal attire.
The Restaurant
The restaurant has been updated with new carpets, wallpaper, and fixtures.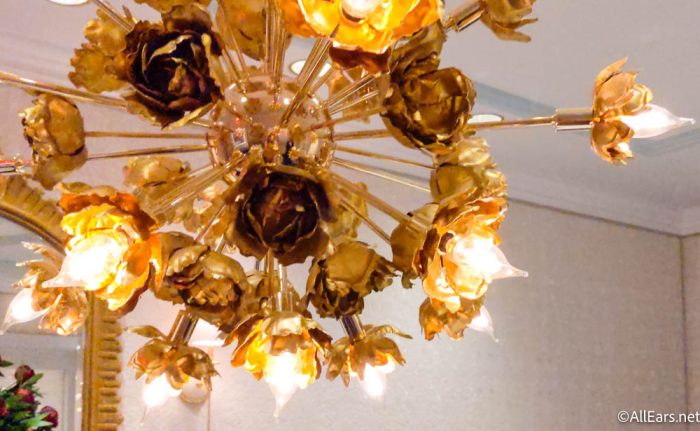 There were a few subtle nods to Disney's Cinderella, in the form of little glass pumpkins and mice…
…and a mural of the castle steps.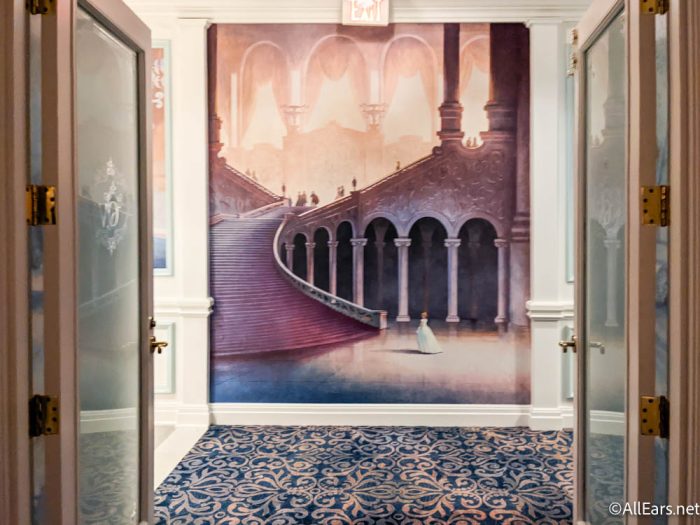 In the dining room, a harpist provides music throughout the course of the meal.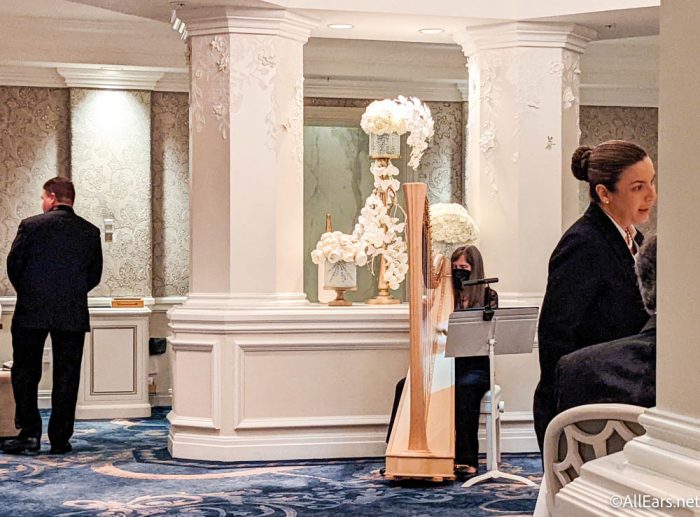 The lighting and decor are very elegant, and with very few tables inside the restaurant, Victoria & Albert's is certainly an exclusive experience. We had 2 servers during our meal, one who mainly brought out and explained the food dishes and another who presented the drinks. During our meal, a chef and the pastry chef came out to talk with us about the food as well.
The Meal
The atmosphere is impressive, but the food is even more important. When we arrived at our table, we each had a personalized menu inside an envelope with our names on it.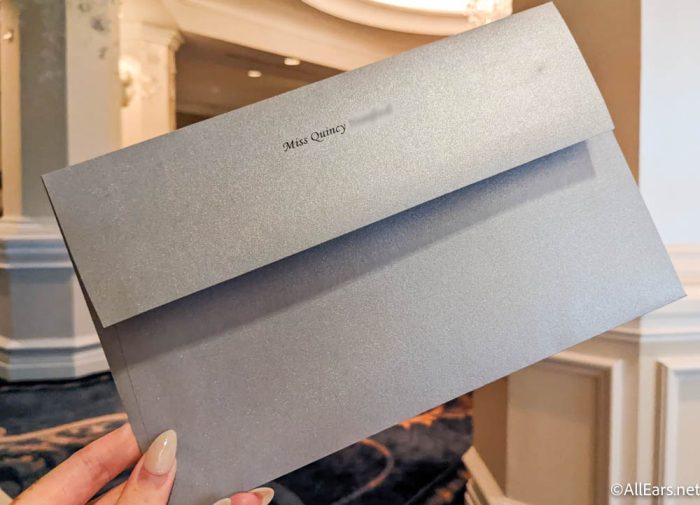 Both of our menus were completely different, as Breedlove had the plant-based menu and Quincy had the regular one. However, the "theme" of each dish was pretty similar. Menus at Victoria & Albert's are seasonal, and they change about every 6 months.
We had the nine-course menu (which is usually served in the Queen Victoria room), but we ate inside the normal dining room. Sometimes this menu is offered in the dining room for an upcharge (as opposed to the normal seven-course menu), but that's not guaranteed. We'll note in the review which courses are not normally offered as part of the dining room meal.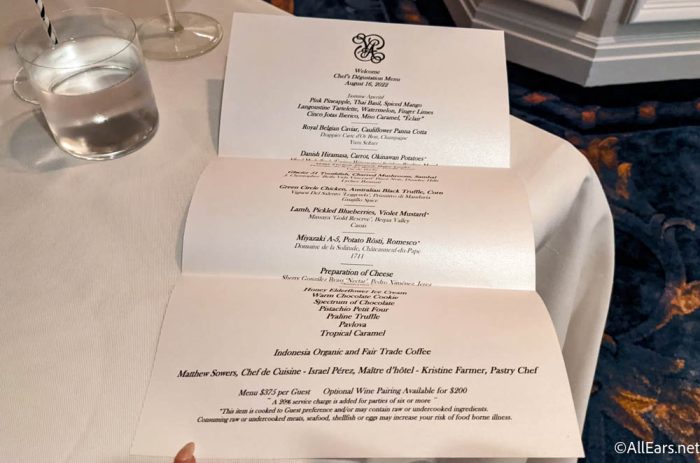 Let's take a look at all the food! Quincy's Amuse Bouche included Pink Pineapple, a Langoustine Tartelette, and a Cinco Jotas Iberico "Eclair."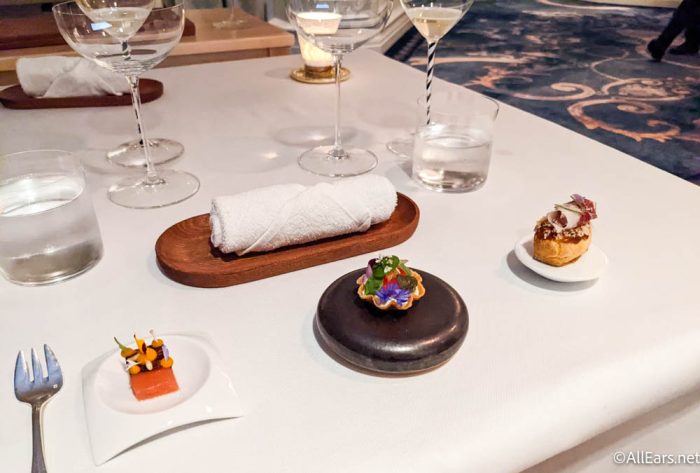 The pineapple was a very sweet bite of pineapple with a great crunch and complementary sauce. In fact, Quincy thought this was the best piece of pineapple she'd ever had! It was sweeter than normal pineapple and didn't have that sharp sourness. Breedlove agreed, saying it was less tart and fibrous, and the savory sauce really brought out the pineapple flavor without overpowering it.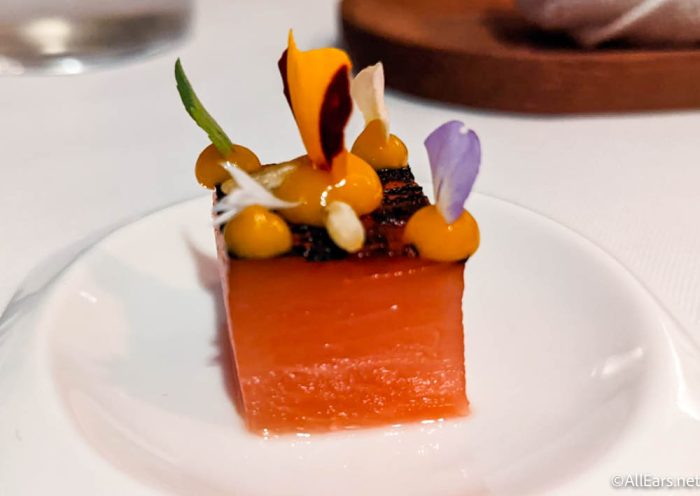 The Langoustine Tartelette was our favorite of the first 3 dishes. It had a strong floral taste and a bit of a peppery aftertaste, and the entire thing just melted in our mouths.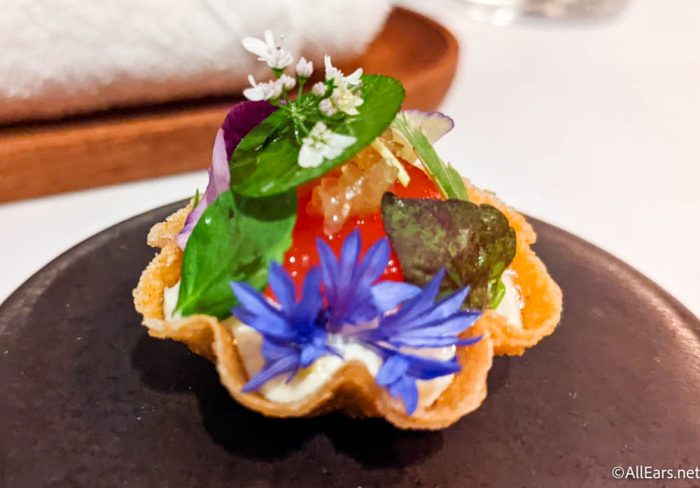 Finally, the "Eclair" (which is made with the highest-quality Iberico pork) was amazing as well. The eclair's filling had a mustardy taste, and it's topped with a Miso caramel as well. Overall, this was basically the fanciest pigs-in-a-blanket that you could possibly imagine.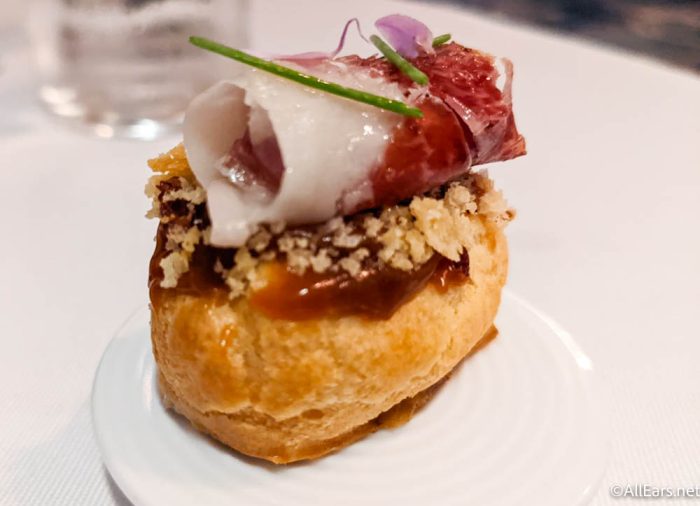 For Breedlove's Amuse Bouche, there was Pink Pineapple (the same as the first one), a Panisse with a Shiso leaf, and a Potato Glass dish. Breedlove said that the Panisse (basically chickpea french fries) almost gave off sushi vibes but with the flavors of an American breakfast of all things. It almost tasted like sausage and maple syrup, just with a light and crunchy texture instead!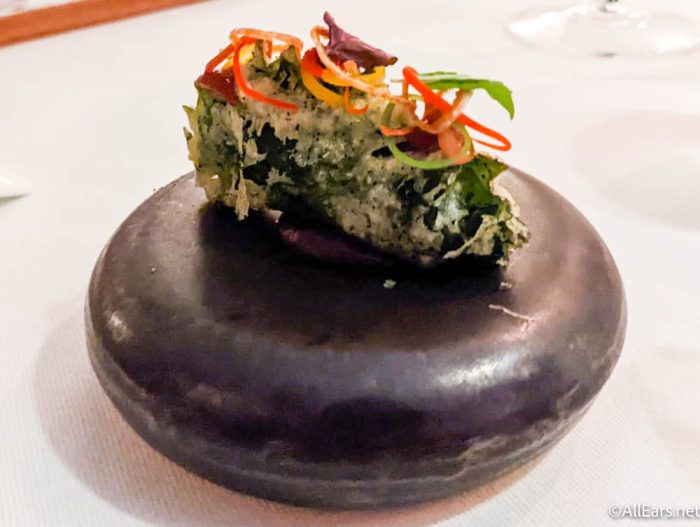 The last dish is various vegetables and a dipping sauce. All of these veggies come from the Chef's Garden Farm in Ohio. The clear pieces in the back are potato glass, which is made by removing starch from the potato and reforming it into a clear potato chip. The dip tasted like a very delicious onion dip. This dish was one of Breedlove's favorite parts of the whole meal — the different elements were fun and almost futuristic.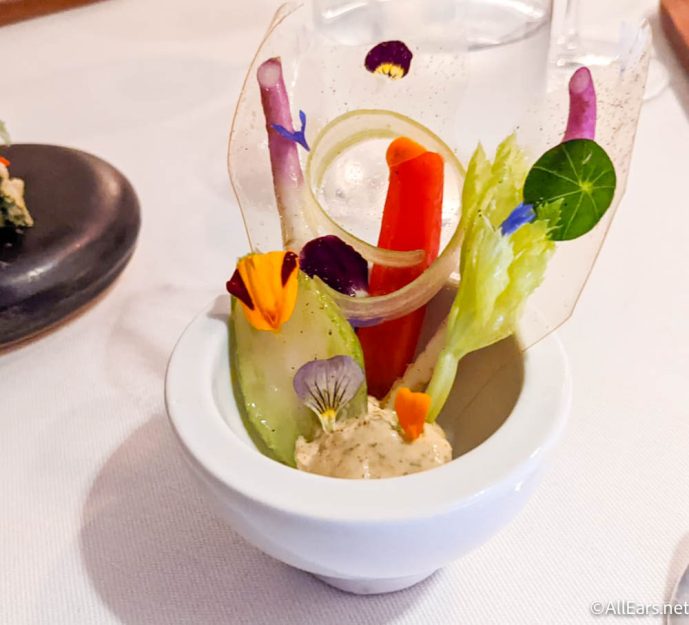 Some bread came out with the Amuse Bouche dishes as well. It was a French Pain D'Epi bread, which is a baguette that's been cut to resemble wheat flowers. It was a very delicious baguette with a crunchy crust, although there wasn't really anything unique or special about the flavor. Our biggest takeaway with the bread we tried here — don't fill up on the bread. It's good, but there are SO many other delicious and special things to try.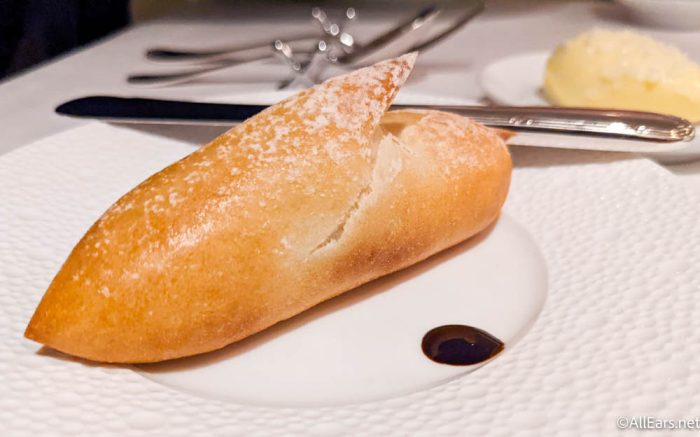 The creamy butter came topped with flakes of sea salt…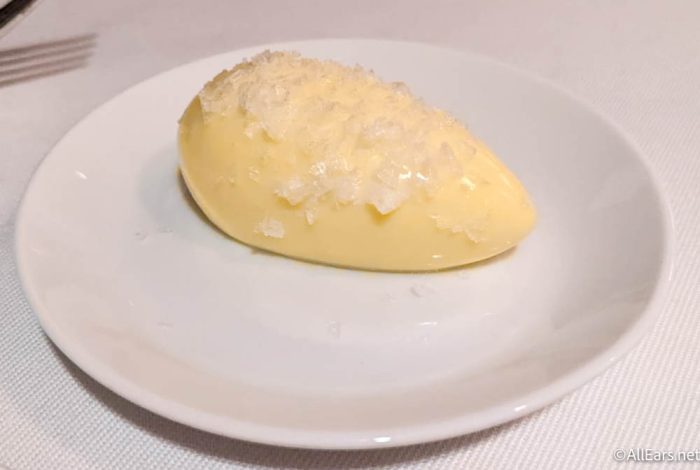 …and we also got Jean Reno Olive Oil, which is the same oil used at Topolino's Terrace. In addition to the oil, the server brought some vinegar that had been aged 100 years and tasted like a mix of molasses and balsamic vinegar.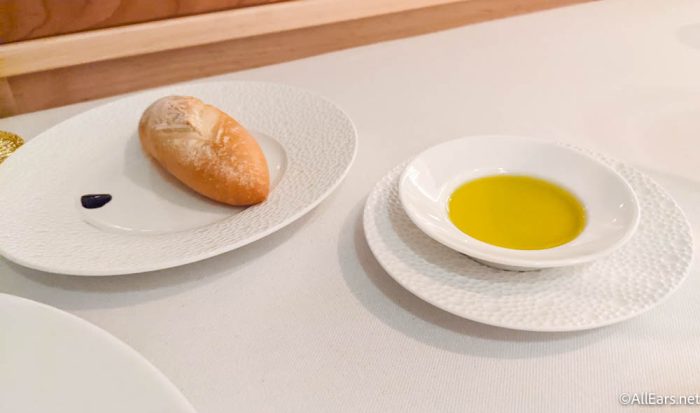 For Quincy's first course, she got the Cauliflower Panna Cotta. It's made with a cauliflower purée and royal Belgian caviar. This dish tasted pretty cheesy, and the caviar on top added a slight saltiness as well. Overall, the textures were unbelievably smooth and the flavors worked together perfectly.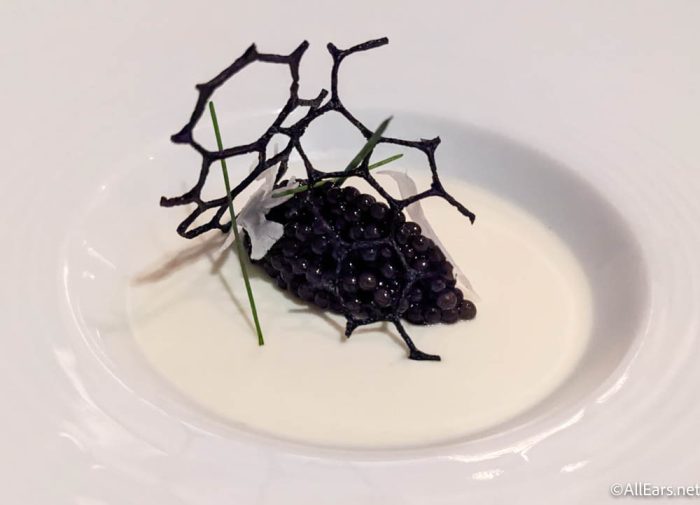 It was paired with champagne that had a pear note on the front end and a nice acidic finish. It was very clean and paired well with the purée.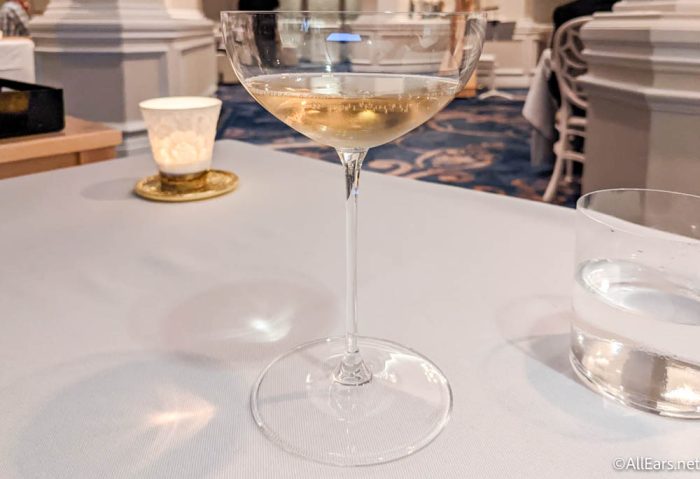 For Breedlove, the first course was Roasted Beets in an Aerated Cloud Beet Foam. The roasted beets were sweet, savory, and just a little bit acidic as well. The foam was very savory and went well with the more balanced roasted beets.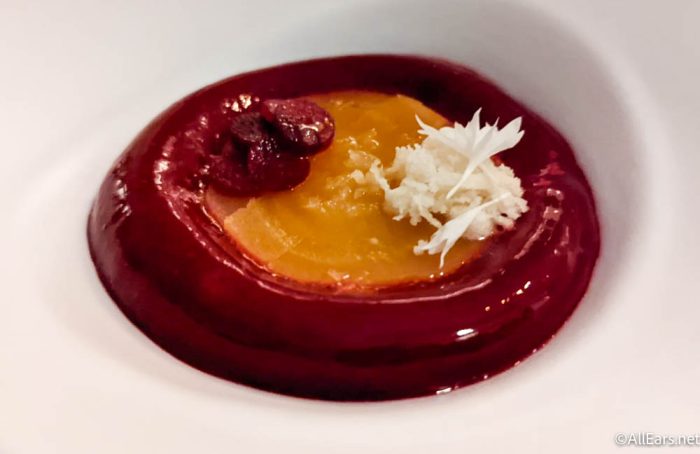 The drink that paired with this dish was a Yuzu Seltzer, which tasted light and citrusy. It almost tasted like a grapefruit and a tangerine had a baby. The bubbles were light and delicate.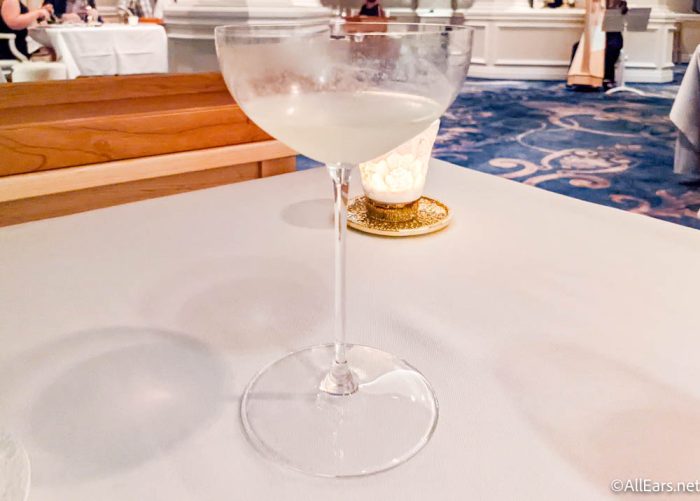 For the next course, Quincy had the Danish Hiramasa fish with Carrot and Okinawan Potatoes. This dish was originally invented by celebrity chef Nobu Matsuhisa, who is famous for his fusion of Japanese and Peruvian ingredients. This dish had no fishy taste at all — it was a beautiful white fish with some citrus hints from the sauce. And that carrot and Amarillo purée was to die for! It had just a little bit of heat to it, which paired well with the light fish.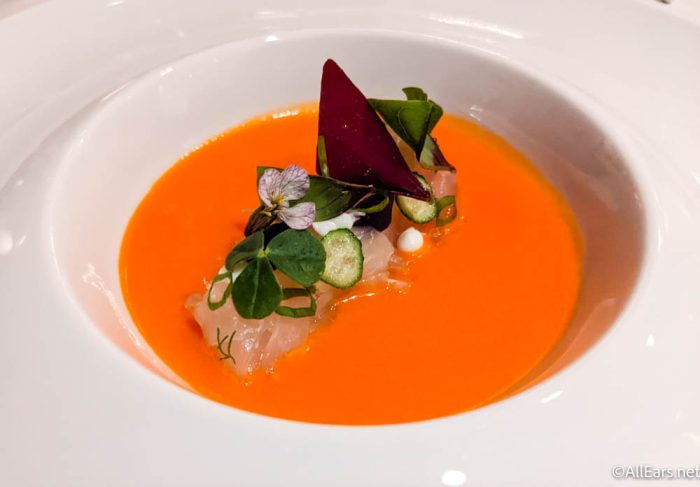 The wine with this course was a Riesling from a late harvest. It was very sweet with robust flavors.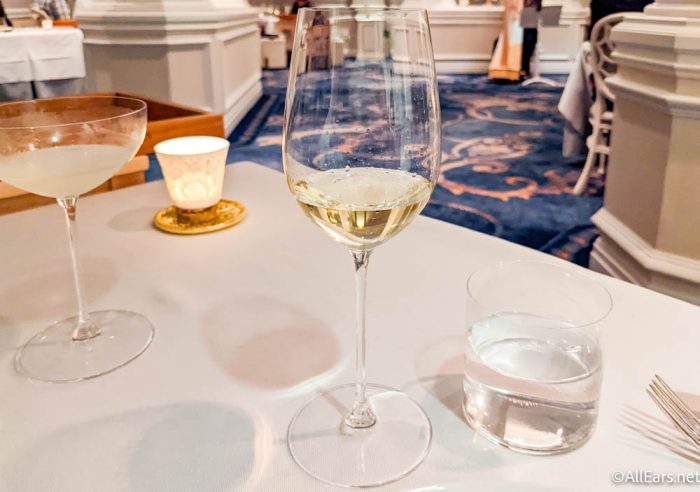 Breedlove had the Heirloom Tomatoes, Gazpacho, and 100-Year Balsamico dish. There were sun-dried tomatoes as well as other kinds of tomatoes throughout, and that tomato flavor was intense. They were clearly grown so well, and we thought that letting that natural flavor shine was a great decision. The broth at the bottom of the dish had basil drops, and our server also added drops of hundred-year-old balsamic. That balsamic was one of our favorite parts of the entire meal — it was sweet (like syrup or molasses) and went very well with the bread as well.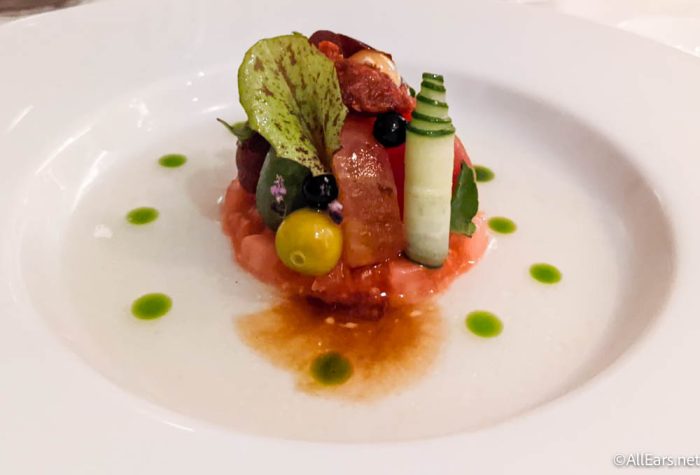 The Gazpacho that was served with this dish was garlicky and had a bit of a kick. It was flavored with a pickled basil flower, which really elevated it from a normal soup to something more special and "fancy" tasting. You could tell there were multiple layers to the flavor.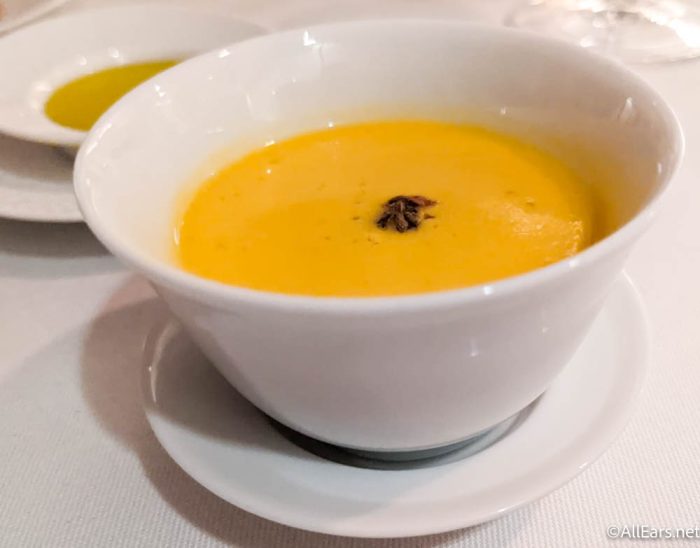 To drink, Breedlove had a Tomatillos & Melon drink. It had a stronger melon taste with more of an earthiness from the tomatillos. While it was interesting, this wasn't our favorite drink of the evening.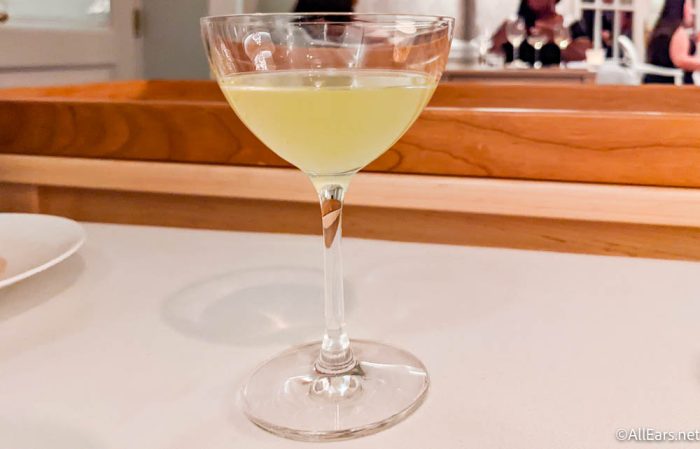 The third course we had is not normally included in the 7-course dining room meal. Quincy had the Wild Turbot with Fennel and Baby Leeks which was incredibly buttery. It had just the right amount of spice to add a lot of flavor without making it too spicy.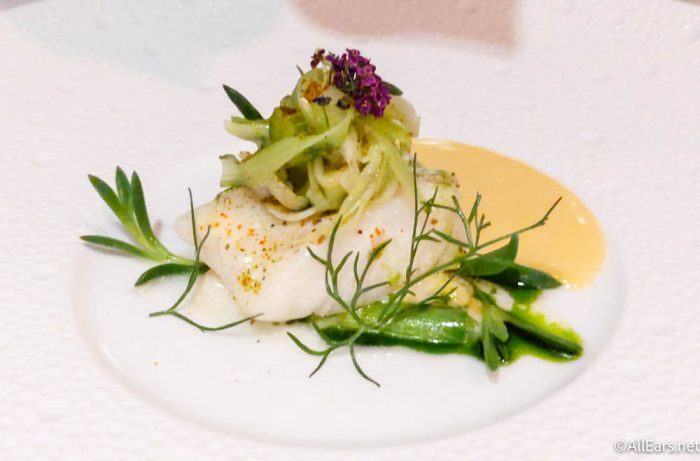 This fish was served with a Domaine du Roc des Boutire, which was a crisp, steel-aged Chardonnay.
Breedlove had an Arrowhead Cabbage, "Pastrami," and Rye Gnocchi, which was inspired by a Ruben sandwich. It was incredible how well these flavors worked together to replicate a Ruben! The mustard seeds contributed a lot of good spice, and sauerkraut, rye, and pumpernickel were represented as well. We were amazed at how a plate of veggies could work together to taste just like a very meat-centric sandwich.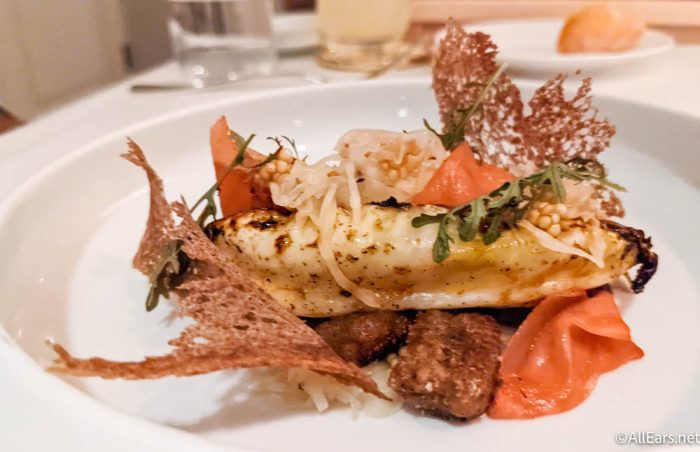 The "Ruben" was accompanied by a Vin de Péche, which was a non-fermented white wine drink flavored with peach. It was very refreshing and probably our favorite of the zero-proof drinks! Although it was basically grape juice, it was the best cold-pressed white grape juice you'll ever taste blended with a burst of peach flavor. We need more of this in our lives, please.
The fourth course for Quincy was a Glacier 51 Toothfish with Charred Mushroom and Sambal. One of our servers said it was seriously perfect, and he was RIGHT. The mushrooms were very flavorful, and the brown sauce had an Asian flavor that carried just a little heat. The sea bass was cooked perfectly as well and had a crisp exterior.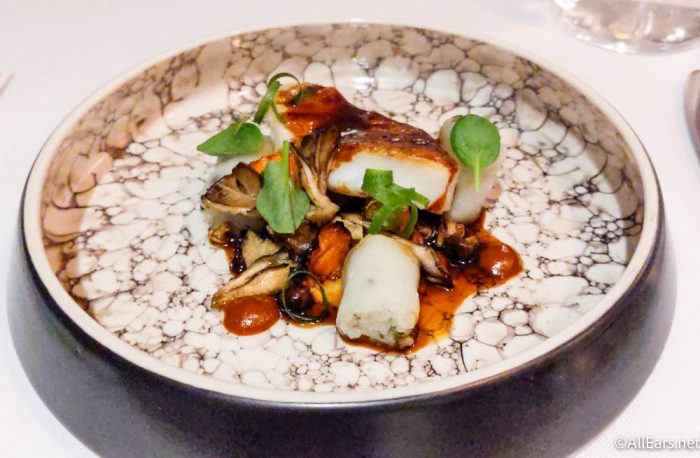 The fish was served with a Pinot Noir that could easily be the best we've ever had. It was robust in flavor but still paired very well with the fish.
Breedlove's dish also had some Asian-inspired flavors. It was Charred Mushroom, Bamboo Rice, and Sambal. The brown sauce had a hint of soy sauce in it and was also fairly sweet. The mushrooms came in a variety of shapes and sizes but all of them had a strong flavor. There was a little bit of heat to this dish as well! The bamboo rice was wrapped in rice paper, which was very fun and easy to eat with chopsticks.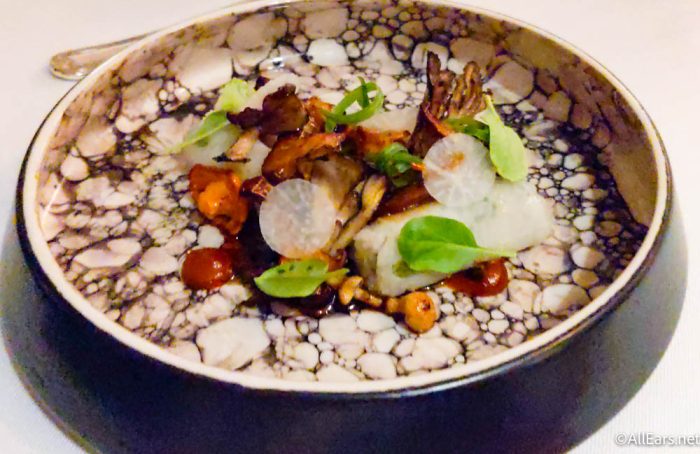 The mocktail paired with this course was a Lychee Basmati drink. The rice made it almost creamy, and we loved the strong lychee flavor. It's a very unique flavor, but not strange or off-putting at all.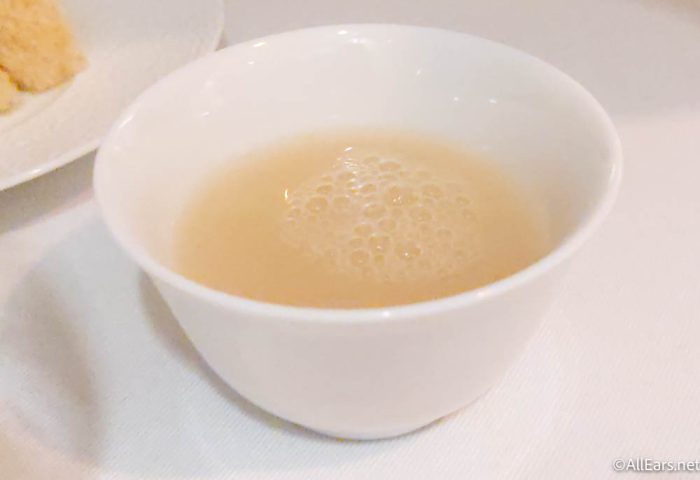 On to the next course! For the fifth course (yes, we're only halfway through — like we said, this is a long, luxurious experience) Quincy had Green Circle Chicken with Australian Black Truffle and Corn. Although this was amazing chicken, it didn't really hold a candle to the fish that we had in the previous courses. The chicken cuts like butter and was very well cooked, but the main flavor came from the truffle. There were some ravioli as well, which paired well with it.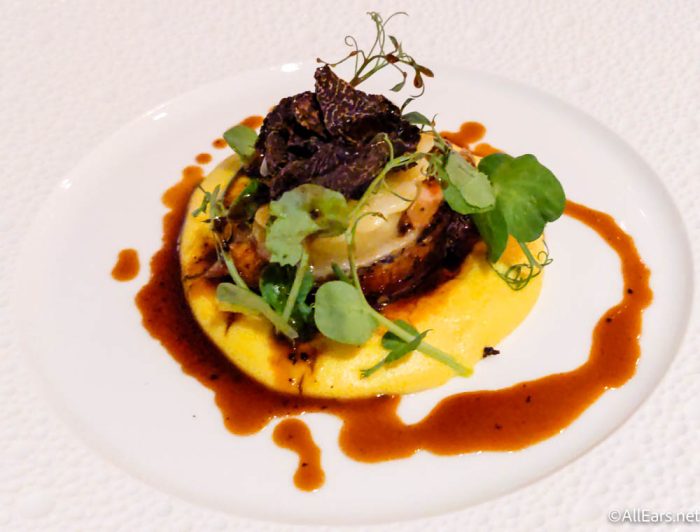 The wine for this course was a 'Leggenda' made with very old Primitivo grapes. It was a very jammy wine and paired with the food it got a bit peppery as well.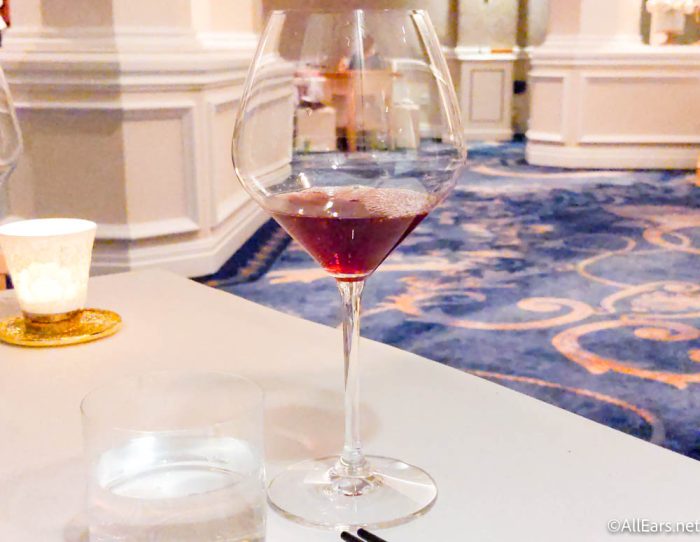 Breedlove's plant-based dish also featured corn. It was made with Huitlacoche, Corn, and Australian Black Truffle. At first, this wasn't our favorite dish. The foam on its own had a very unfamiliar flavor, but paired with the tortellini and corn it actually turned out to be delicious! The Huitlacoche comes from a fungus that grows on corn in Mexico, which explains why the flavors go so well together — they literally grow together naturally.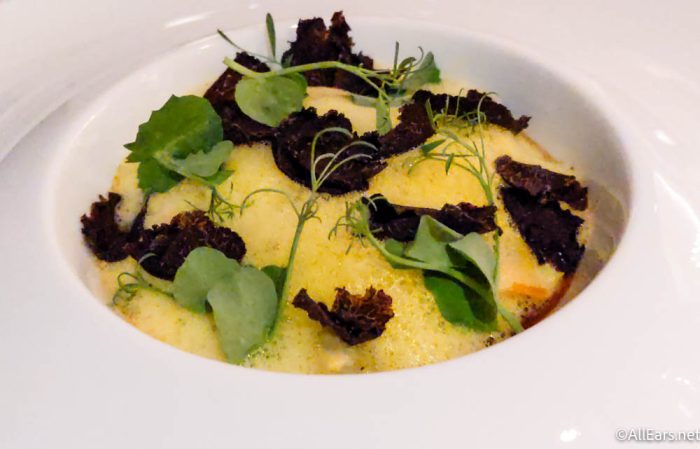 This was paired with a Guajillo Spice drink, which was basically a zero-proof dupe for whisky. It tasted very rich and sweet, so this is a good option for someone who doesn't drink but might enjoy the pure whisky flavor.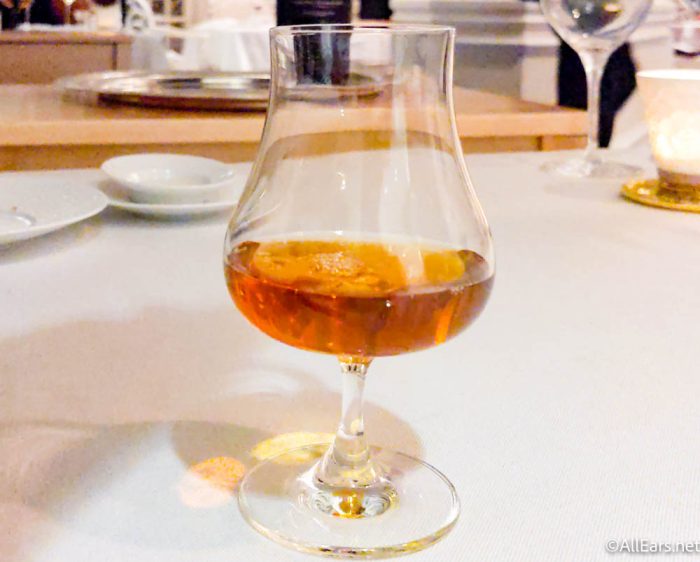 The next dish for Quincy was Lamb served with Pickled Blueberries and Violet Mustard. Although we don't normally love lamb, we could absolutely tell that this was high-quality meat. It was an excellent cut and tasted delicious when paired with the blueberries.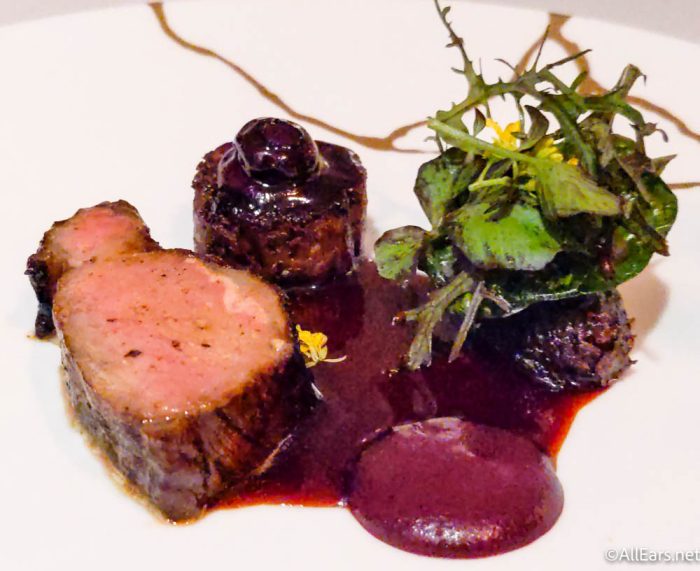 The wine was a Gold Reserve from Lebanon. It paired beautifully with the flavors of the lamb and had a strong flavor of its own.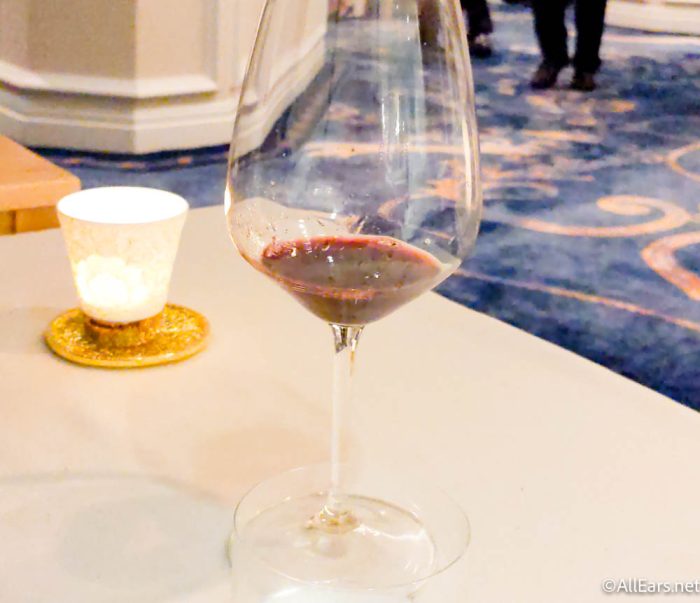 Breedlove had Heirloom Beans with Potatoes and Turnips for this course. These came topped with a little crown, which was awkward to break (especially since we felt like we shouldn't use our fingers at a place like Victoria & Albert's). As a plant-based eater, Breedlove incorporates a lot of beans into his diet, and these tasted fairly middle-of-the-road. This dish seemed out of place compared to all the other food we had. Although the variety of beans was nice, the flavor wasn't anything spectacular.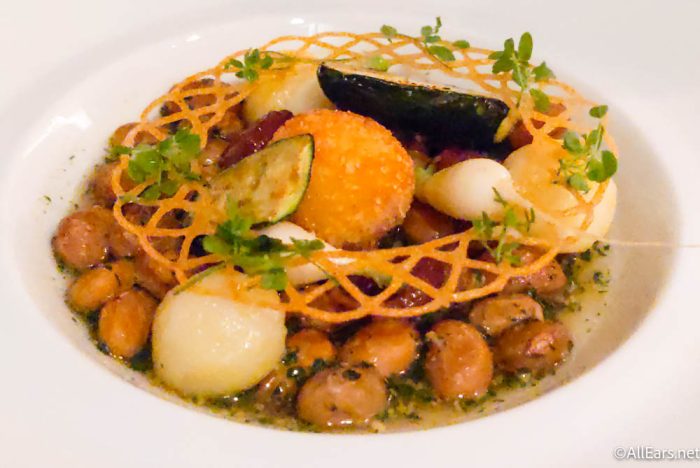 This seventh course also doesn't usually come with the normal dining room menu. Quincy had Miyazaki A-5 beef with Potato Rösti and Romesco. This course was VERY rich. The meat was beautifully tender and it was very flavorful as well. It was so rich, though, that we found it difficult to finish after eating six courses before this. But anyone who enjoys beef will love this — A-5 is literally the highest-quality beef in the world. The pepper sauce helped to balance out some of the richness and cut through those robust flavors, which was much-needed.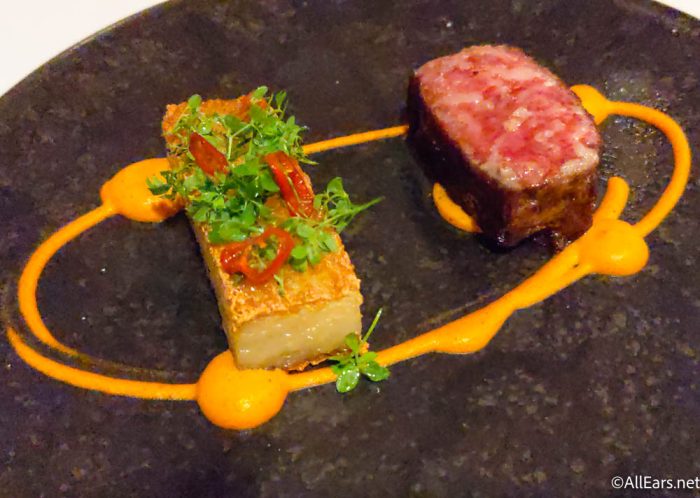 The wine with this course was the heaviest so far, and it had some peppery notes that paired well with the flavors of the meat.
Breedlove had the Carrot Tikka Masala next, which is served with Cilantro and Puri. This dish had incredible Indian flavors, and the shoestring carrots on top were delicious!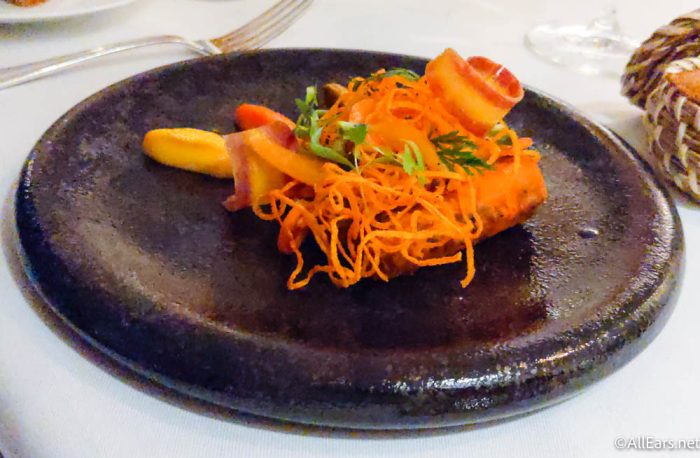 It was served with a basket of spiced bread on the side, which was originally meant to absorb some of the sauce in the dish. However, they were too crisp for that job so we used them as vehicles for the main dish. The bread was seasoned with coffee and coriander spice.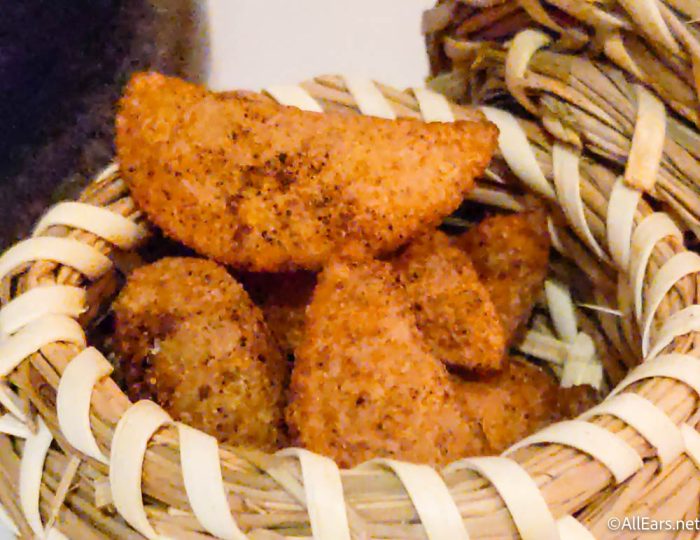 The drink here was a Cassis, which tasted almost like a fruit syrup or cordial. The serving was small, which actually worked out well as any more could have ruined dessert.
And we've made it to the cheese course! The cheese courses were almost the same except for the actual cheese itself, which was of course plant-based for Breedlove's menu.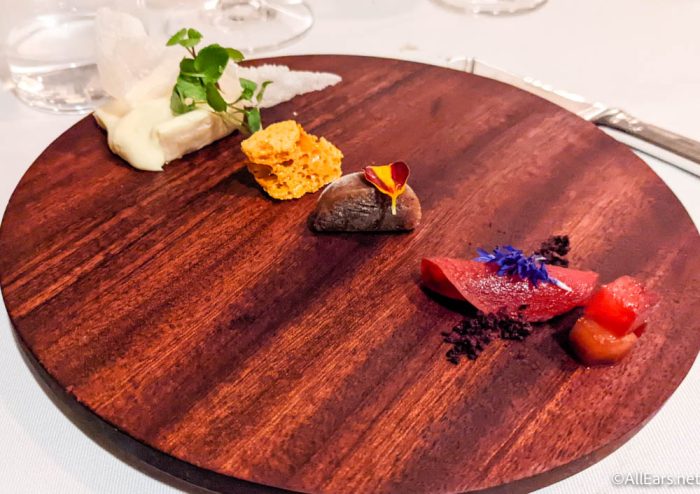 There were a variety of plums on the board, which paired with some honeycomb and finally the cheese. Quincy's cheese was very creamy and oozy (almost like a Brie). Although it was great on its own, the flavors worked best when you get a little bit of everything in a bite.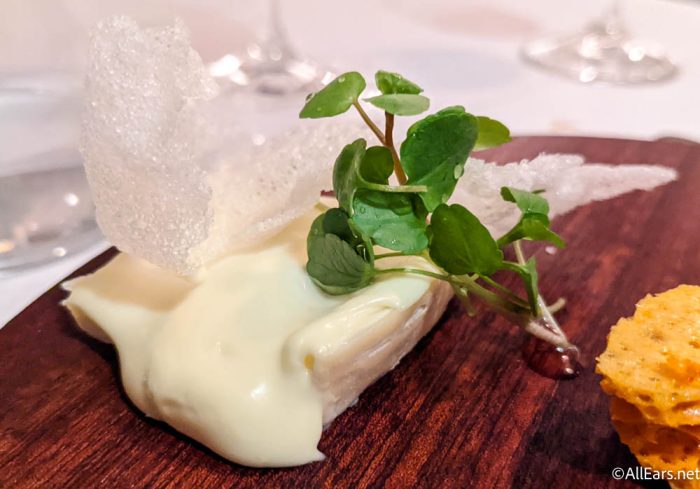 It was served with a very sweet Sherry that had a distinct flavor, almost like sweet raisins in raisin bread. It was pretty strong, so we only had a few sips.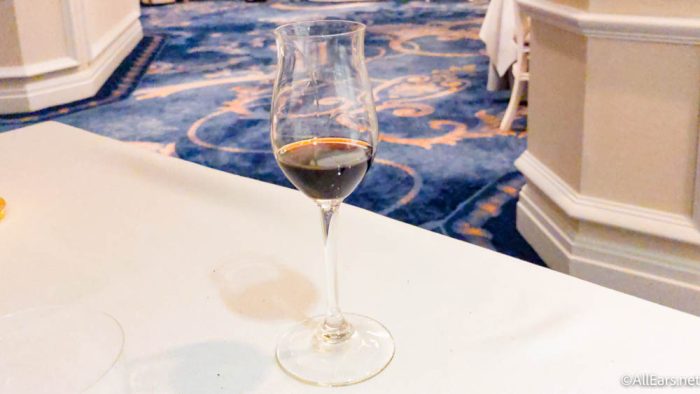 The "cheese" on Breedlove's board was made with cashew cream and spices. It had a pretty overwhelming coconut flavor, which wasn't our favorite, but the texture was very nice.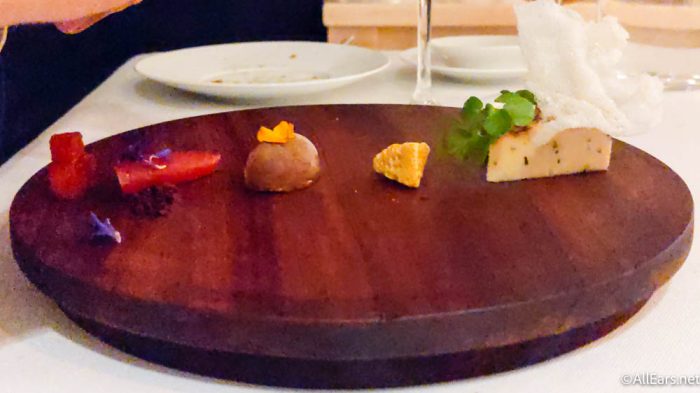 Now for the best part: dessert! Quincy started with the Chocolate Spectrum, which was gorgeous. Even if you don't love chocolate, we think you'll appreciate this because of the interesting textures and well-balanced flavors. The inside of it basically tasted like an extra fancy Lindor truffle!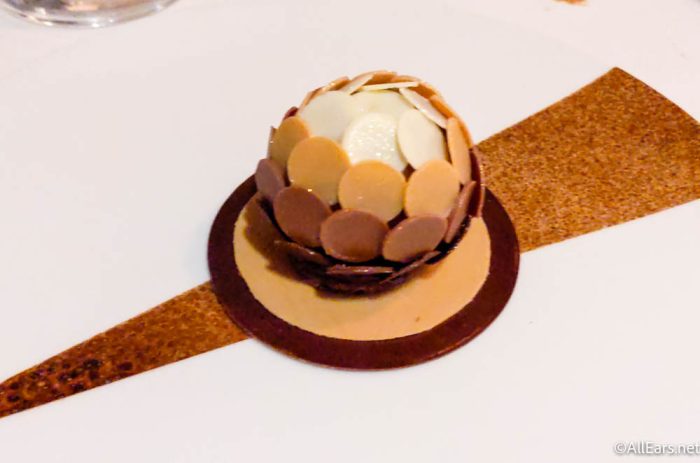 There was a Honey Elderflower Ice Cream with raspberry sauce, which was light and delicate — just what we needed after a big, filling meal.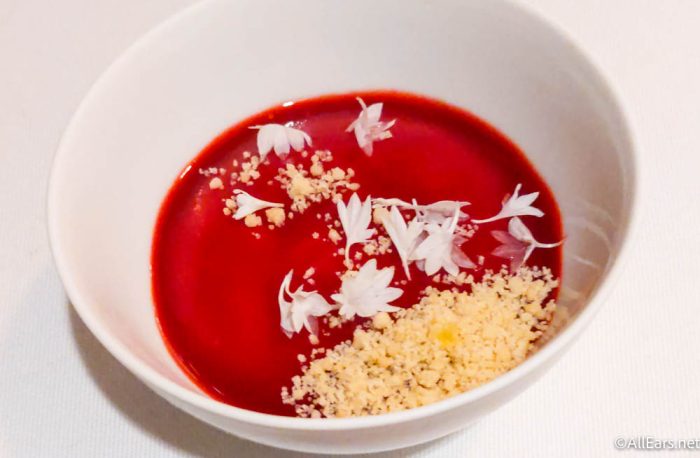 The Chocolate Cookie was tasty as well! It was pretty crunchy, and we dipped it in the raspberry sauce from the ice cream, which was an excellent choice.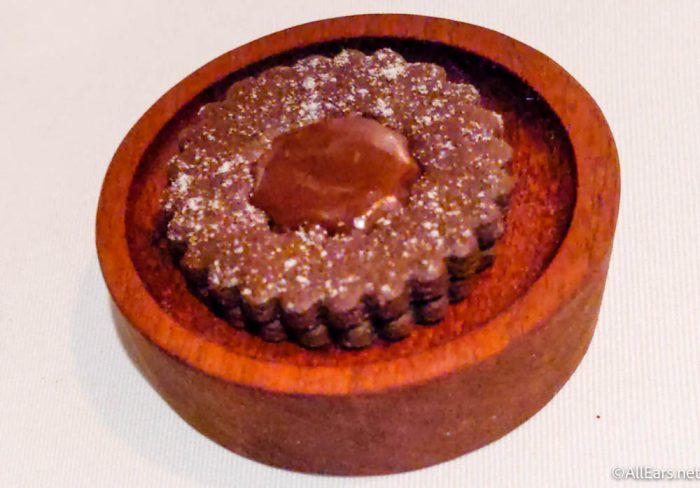 The Pavlova was incredible. We don't always love the texture of meringue, but it was so fruity, sweet, and delicious that we thought we could eat an entire full-sized version of this mini treat. This was definitely Quincy's favorite of the treats.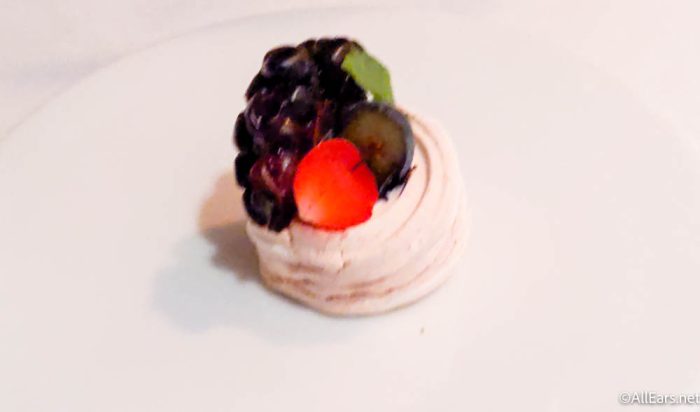 There was a Pistachio Petit Four, which was very good but could have used a little more pistachio flavor. However, all of the many layers tasted great.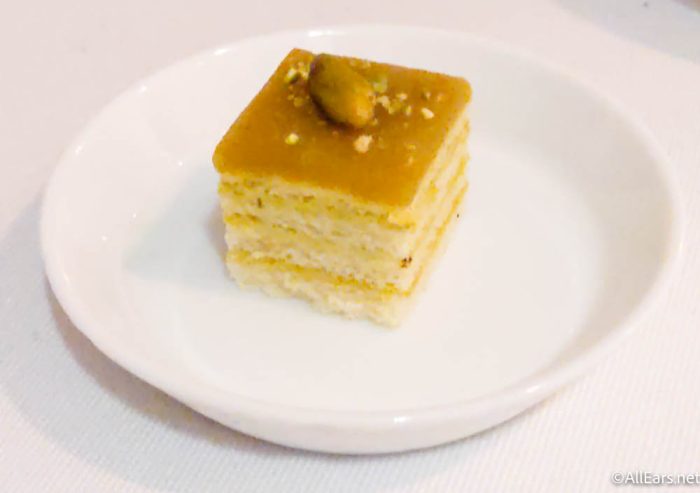 The Praline Truffle was very sweet and had a creamy texture. Although it was good, it wasn't a stand-out to us. However, it was definitely cool that this truffle was rolled in 24-karat gold leaf. Because why not?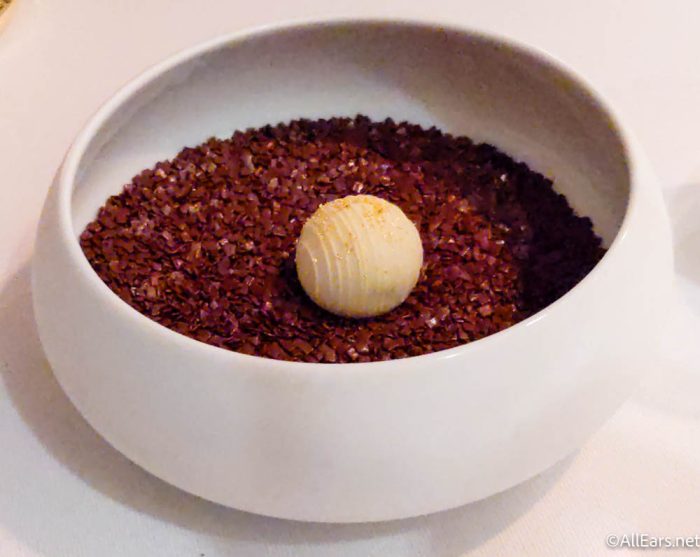 Finally, there was a Tropical Caramel, which was made with various fruits like passion fruit. This was definitely the coolest dessert because every part of it was edible — including the wrapper! It was heavy on the tropical flavors and a bit chewy (not a hard caramel).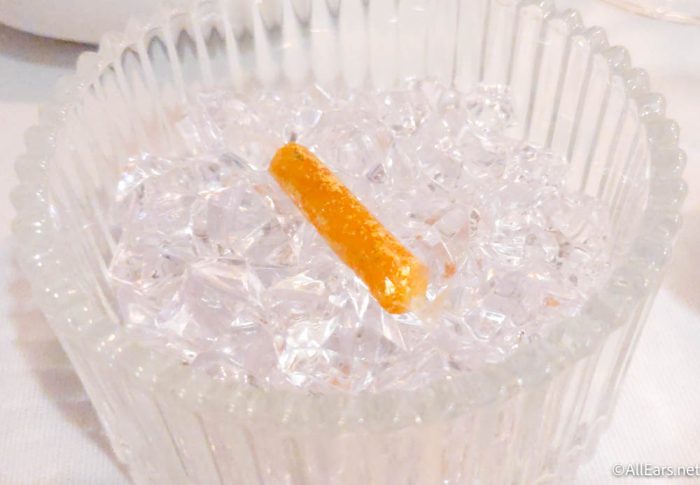 Breedlove's desserts included an Açaí Granita…
…Warm Peach Raspberry Cookie…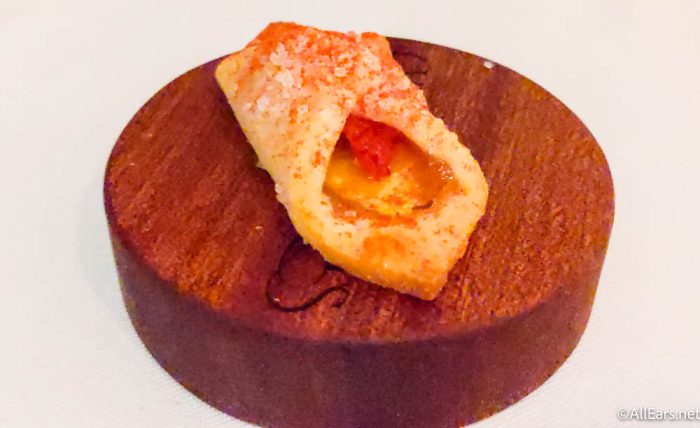 …Praline Temple…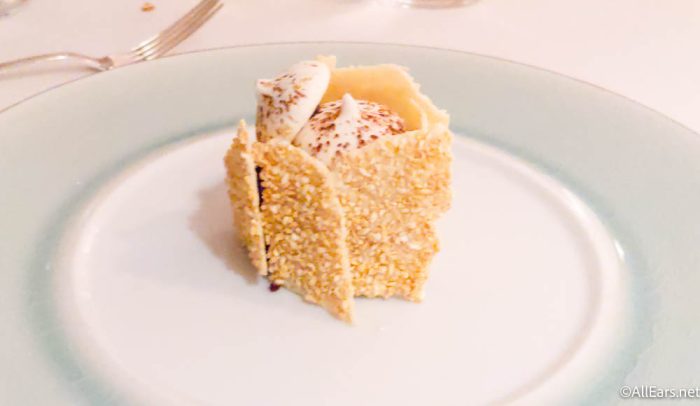 …Rhubarb and Cherry Pie…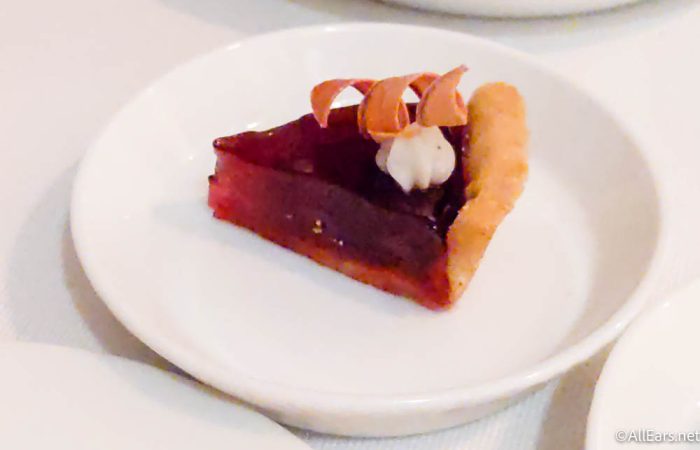 …Sticky Toffee Pudding…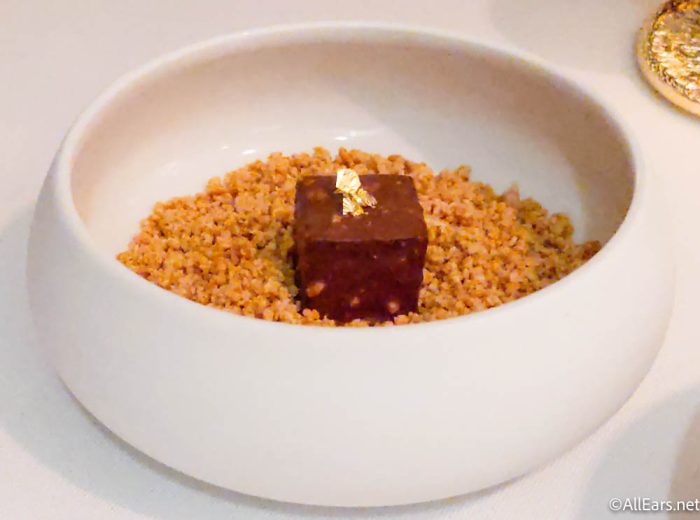 …Banana Gateau…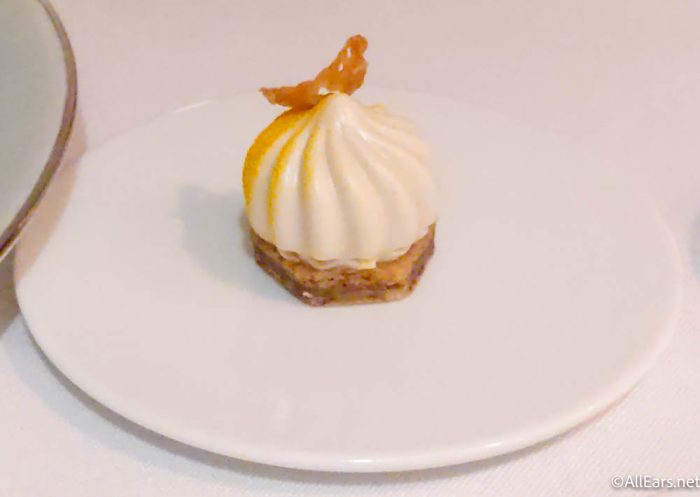 …Tahini Mouse…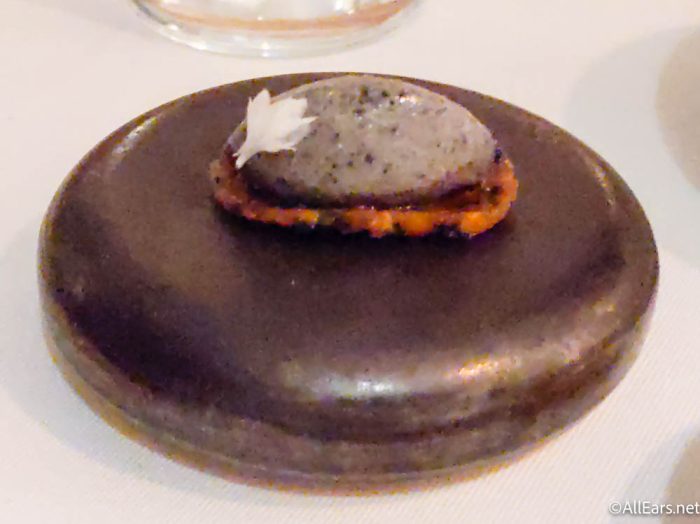 …and Indonesia Organic Fair Trade Coffee.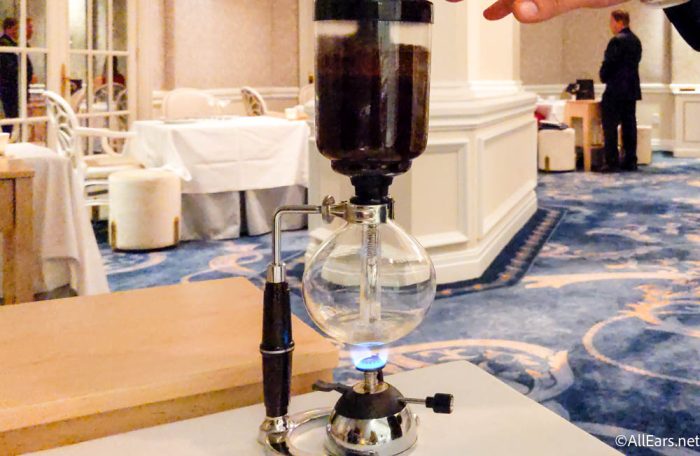 The praline temple was incredible — it was so creamy that we have no idea how it was plant-based. The chocolate cake inside was very moist, and there was a mousse as well. Some of the other stand-out desserts were the sticky toffee pudding and banana gateau.
And that marked the end of our meal!
General Thoughts
Victoria & Albert's Restaurant is luxury dining at its finest. The service was incredible — our servers explained every dish and drink and often had a back story about why it was being served and where the inspiration came from. We were able to meet some of the chefs as well, and everyone was welcoming and professional.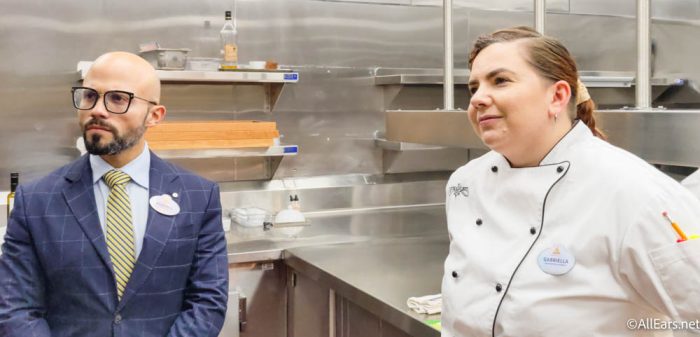 With the very high price, we know that many people are wondering whether this experience is actually worth what you'll pay. And that honestly depends on your own preferences. We think that people who love varieties of wine will have an incredible experience with all of the different pairings and how beautifully they work with the food. And if you want a very elevated dinner with amazing service and a luxurious feel, this restaurant really can't be beaten.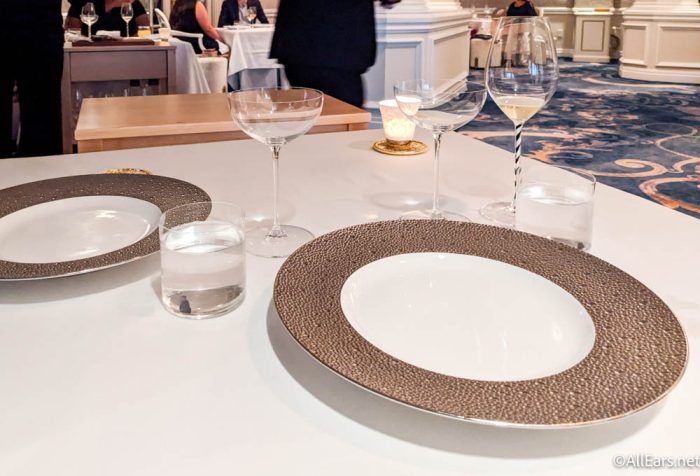 However, there are some other great meals in Disney World that — while not as fancy or exclusive — still serve amazing food and great drinks. Some of our favorite restaurants for a fancy meal are Jiko, Le Cellier, Topolino's Terrace, and Wine Bar George. You'll find great food and customer service at all of these locations, and the price tags are much more reasonable.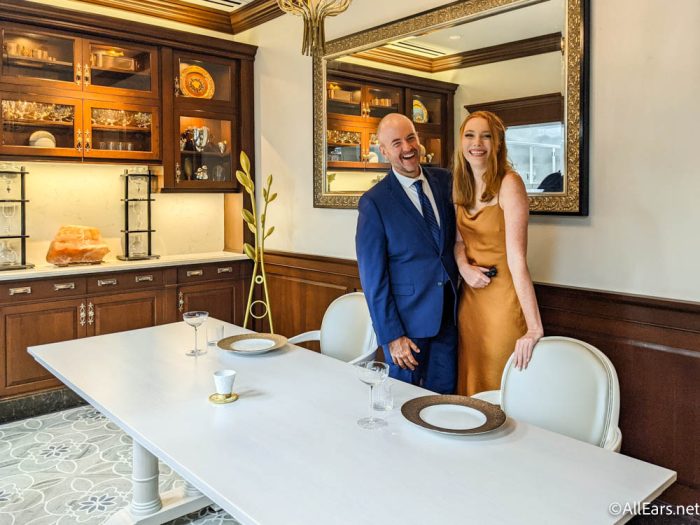 But if you're looking for a splurge, we can confirm that the food and drinks live up to the highest of expectations at Victoria & Albert's.
Keep following AllEars for more updates from Disney World.
Click here to see the BEST restaurants at Disney World at EVERY price point.
Join the AllEars.net Newsletter to get a free list of the WEIRDEST Cocktails in Disney World! Click here to get started!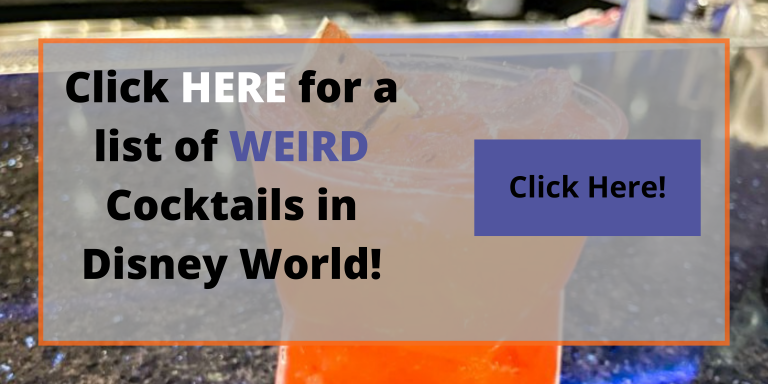 Have you dined at Victoria & Albert's in Disney World? Let us know in the comments.
Disclosure: We were invited by Disney to attend a media event for Victoria & Albert's Restaurant. This did not affect our reporting of the event — our opinions are our own.