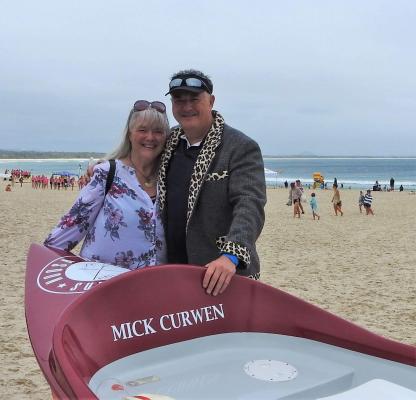 Ron Lane
On Sunday morning, Noosa Heads SLSC, Noosa's main beach, held a ceremony to mark the launch of its new surf boat.
In his opening speech to guests and rowers, veteran rower Mick Curwin paid tribute to the original owners of the land, the Gabi-Gabi people.
He went on to present a brief history of the rowing sector, acknowledging that 1993, the year in which the Rowing Fraternity underwent a major reorganization, had led rowing to its present, reconciled and successful situation. .
This made winning a sponsorship deal a more realistic proposition. In stating this, I would like to sincerely thank Richardson and Wrench for their tremendous contribution to our boat.",
In welcoming guests and members, club president Ross Fischer also thanked the people of Gabi Gabi. congratulated the
"We would also like to thank our sponsors Richardson and Wrench for their tremendous contributions. Our sponsors Shane and Gillian McAuley have asked us to pass on their apologies for not being able to attend. I wish them luck."
After the speech, the boat was christened, the most important part of the launching ceremony.
Imagine my shock when the MC was asked to remove the strip covering the person's name. Only that name turned out to be his Mick Curwin.
His immediate response was, "My God, it's me."
The thunderous applause that followed this revelation informed all those present that the decision for this high honor was in fact fully supported. answered. As for my 30 years, it's just the beginning," he said with a laugh.
Mick's life-saving career began in 1992 when his family joined Noosa Nippers as a father of 33. Following this, like many young fathers, he joined the senior club with new mates from Nippers and won a bronze.
This was just the beginning of a successful career at the Noosa club. Over the years he held a variety of positions, the most important of which were Treasurer, Patrol Captain and Captain.
In competition he has rowed in many Masters Boat Crews and has also been part of a maintained crew. The support of his wife Anita and children was a big factor in making it all possible.
Like all old masters, he quarrels whenever he gets the chance, but like all old masters, his favorite pastime is chatting over a cold beer. Among his favorite conversations was the boat swept by Alby Maxwell in the 1997 big surf at Karawa. The waves were so big at the time that the break (the area where the waves are constantly crashing) on ​​race day was full of capsized boats, crew and boat oars. Another was at El Elera in 2018 when Australian Surf held his Lowers League Championship. This time it was a matter of club pride for Mick and the others.
Two groups of junior girls in the same division (8 groups in total, high school girls aged 15 and 16) advanced to the finals. Rowing out on the biggest waves they've ever seen, they not only went in and out, but put in an incredible result of finishing 1st and 3rd, earning gold and bronze medals. Hundreds of rowers from across Australia erupted on the beach as the final standings were announced. The 15-year-old and her 16-year-old Noosa schoolgirl certainly have something to remember. "
When it comes to the cost of new boats, the importance of good sponsorship becomes clear.
The boat and trailer cost $35,000, with oars for a total of $40,000. The importance of these boats to surf clubs cannot be overemphasized.
First and foremost, it is a team sport that creates a bond between clubmates that is not found in any other field. These traits are carried over to a superior beach patrol structure with members who are able to face big waves and always act as a team when carrying out their core business of saving lives.
On Saturday morning, the Noosa Club hosted the u/8-u/10 Nipper Carnival featuring 12 clubs. Around 500 spectators watched, and the day began with a demonstration dance by the Gubigubi people. The well-received dance team was formed by direct descendant Lyndon Davis.
Also in attendance were sponsors FINZ and Golden Circle. The morning went well with only small waves for the competitors. I think it's good for the future of lifesaving that the Nipper Club is producing nippers at a young age. We wish all the Nipper family all the best for many years to come.
weightlifting.
On Saturday, Zak Schwitter and Taj Marsh, representing both the Noosa Barbell Club and Queensland, competed in the Senior Australian Weightlifting Title in Brisbane. For both youngsters (who compete in Snatch and Clean & Jerk), the Senior Nationals were their firsts. It was a great opportunity to gain experience in the Senior Division. At each event, Zack competed in the M81kg class and Taj in the M96kg class. For Taj, this was his first time in the division, as his normal was M89kg, but upon request for promotion from the Queensland team, he agreed to do so.
Zach had the bad luck of picking up an elbow injury on his final snatch attempt, but with the continued help of SNP Health's Jason McNamara, he was able to finish the event. , he showed a lot of courage and dedication to the team. The end result saw Zach finish sixth in this his first national title despite his injury.
Taj's preparations for the competition were patchy, with difficulty studying for the Grade 12 exams, attending graduation social events, and training.
"But with his tough mental demeanor, he ran a great day on the platform and finished sixth in his first national competition as well."
After the competition, he was quoted as saying, "Little fish, big pond – it's time to get down to business."
In the title summary, director Oogie Marsh said: For his 2022 calendar season, it's time to breathe new blood into Noosa's barbell club and CrossFit 4566 fold and build again. "
He thanked the CrossFit community and the Barbell Club for their continued support, dedication and commitment to training. Director Marsh concluded, "Let's welcome 2022."