Claudia Kelly may have won six gold medals at the Eastern Region Surf Lifesaving Championships at Mount Maunganui over the weekend, but her biggest win was getting on the water. .
Heavy rain and high winds disrupted the three-day Carnival schedule, which features more than 700 surf athletes from across New Zealand.
Kelly is one of the stars, the 21-year-old Taranaki Lifeguard has individual victories in the Women's Open Board Race, Ski Race and Ironwoman, and gold medals in Board Relay, Board Rescue and Double Ski against her East End clubmates. Did.
"Considering how bad the weather was all over the northern North Island, it was an amazing effort by the organizers to even get us into the water race," says Kelly.
"They could have easily pulled the pin, but we got to see what our fellow lifeguards were doing in Oakland at the peak of the emergency and the amazing rescue they were doing. No. We can handle any situation."
Kelly and clubmate Julia Puddlett swept a 1.5m high on Friday night ahead of a dramatic storm that set record rainfall in Auckland and caused slips and flooding across wide swaths of Tauranga and northern New Zealand. Won two ski gold medals in turbulent swells.
It took all the surf noose to run through the long, white cap littered course of Shark Alley. Especially after the two got wiped out in a violent wave during a warm-up.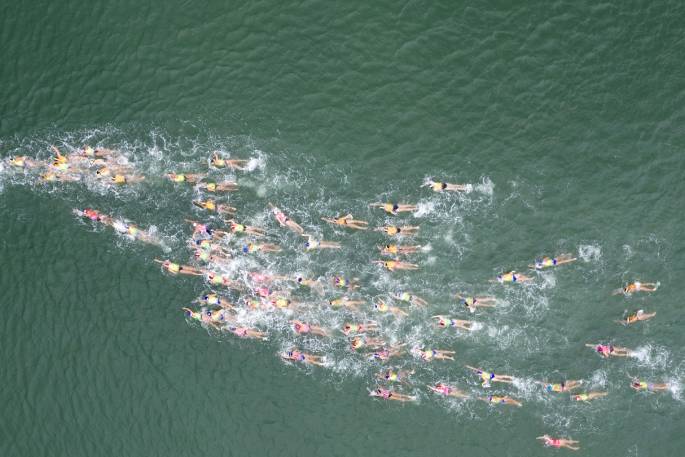 Surf racing rages on at the Eastern Region Surf Lifesaving Championships at Mount Maunganui. Photo by Jamie Troughton/Dscribe Media.
By Saturday morning, rain had poured in and the waves had intensified, prompting organizers to switch all water races to Pilot Bay, placing boats and canoes further up in the harbor.
It rained so much that it sometimes seemed the driest right after we jumped in at the start of the race.
The situation improved slightly on Sunday morning, but the water became less clear in the morning, forcing the organizers to make changes again, removing all swim legs from the program after lunch.
The lack of waves left competitors to focus on pure speed and racing, and the open men's division booty was widely shared.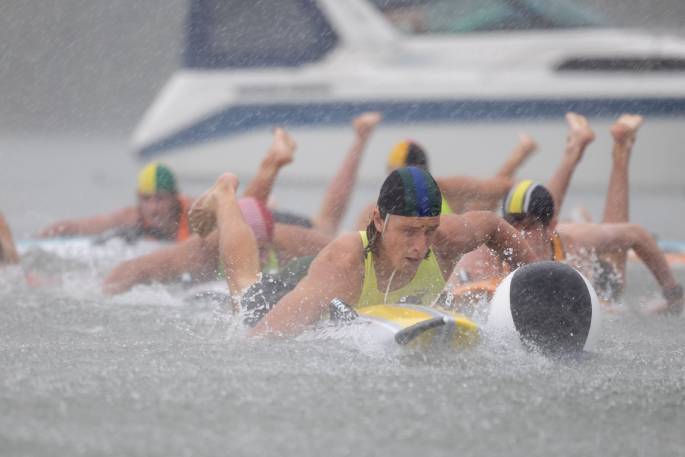 Omaha's Ben Blair leads the under-19 board race field in torrential rains at Pilot Bay on Mount Maunganui during the Eastern Region Surf Lifesaving Championships. Photo by Jamie Troughton/Dscribe Media.
Jacques Dufer leads three straight wins at Mailangi Bay at Ironman, sending home clubmates Paul van Achterberg and Conor Beamish, Orewa's James Scott wins board race, Red Beach's Kalani Gilbertson took the ski race from Samroy at Mount Maunganui with Scott in third. Taylors of Christchurch His Mistake Lewis Clark won Surf his race, followed by Gus Sibunan of Omanu and Luther Maxwell (Otaki).
On the sand, 10-time National Champion Morgan Foster turned back time with a stunning win at Beach Flags just one week after his 47th birthday.
Oska Smith got her revenge in the beach sprint but won the gold medal giving Foster the silver. Waikanae Her Sprint Her Queen Brianna Her Irving achieved her double again in the Open Women's Beach Her Sprint/Flags.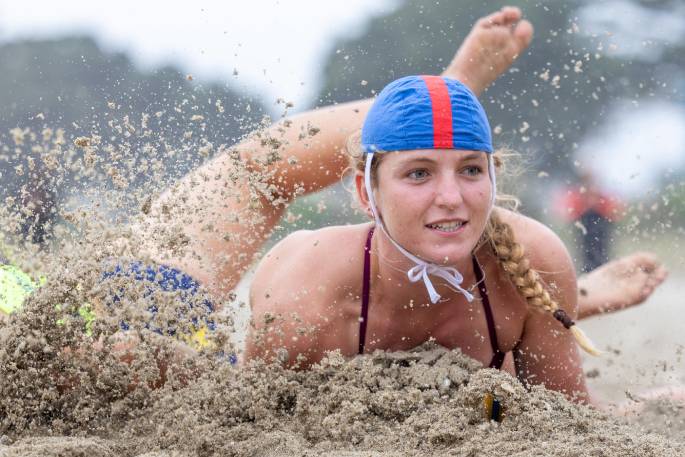 Mikaela Pocock of Mailangi Bay won the Under 17 Beach Flag at the Eastern Region Surf Lifesaving Championships at Mount Maunganui. Photo by Jamie Troughton/Dscribe Media.
Mailangi Bey and Whangamata shared the spoils in the Men's Open Surf Boat division, while Paekakariki's Open Women's won both the Short and Long Course.
Meanwhile, Mount Maunganui continued to retain their overall points trophy with a string of impressive relay and team results, finishing with 169 points, with the East End second on 95 and Red Beach third on 57.
Final point: Mount Maunganui 169 1, East End 95 2, Red Beach 57 3, Mailangi Bay 55 4, Waikanae 54 5, Orewa 50 6, Midway 40 7, Omanu 36 8, South Brighton 30 9, Ocean Beach Kiwi 27 10, Paekakariki 25 11 , Piha 25 12, Whangamata 24 13, Lyal Bay 19 14, Taylor's Mistake 16 15, Papamoa 14 16, Westshore 10 17, Muriwai 10 18, Waimarama 8 19, Whakatane 7 20.